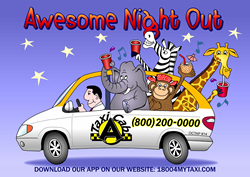 Wet pants and seats are responsibility of passengers
Orange County, CA (PRWEB) March 28, 2014
Pick up five friends in a mini van cab, then have a few drinks on the way. Believe it or not, according to the California Vehicle Code, drinking is permitted in taxis.
Take an Awesome Night Out cab and enjoy the privilege of drinking and getting driven. Save by having friends chip in for the ride, and save by bringing personal drinks. Awesome Night Out has partnered up with 18004MYTAXI to provide the ultimate safe drinking and party experience on the way to a favorite night out. Participating drivers must be specially requested. Up to six passengers ride for the price of one, making a night out even better. Must be 21 years or older.
Drivers will need to verify ID and will need to ask for a "drinking cab" when a call is made to 18004MYTAXI.
Contact Nate with ANO at awesomenightout411(at)gmail(dot)com or contact Awesome Night Out, by Facebook at https://www.facebook.com/awesomenightout or Twitter @wesomenightout for more details.
Orange County CA residents only.

Request an ANO or Drinking Taxi at 18004MYTAXI when you call in.
Be over the age of 21 in the taxi cab and be ready to show ID.
Drink between 7 pm and 2 am.
Wet pants and seats are responsibility of passengers.
Call or download the smart app and put a request under special instructions.