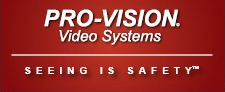 Byron Center, Michigan (PRWEB) March 29, 2014
PRO-VISION is just weeks away from further expanding the most versatile lineup of Rear Vision and Video Recording systems available. The available lineup of viewing monitors for side and rear vision cameras includes a 5", 5" Waterproof, 7" Quad-View, and 4.3" Rearview Mirror Monitor. The addition of a 9" LCD will assist in better visibility around commercial vehicles by providing drivers with a larger image of up to four different camera angles.
"This newest monitor option is in final testing stages and should be available to ship in the next 60 to 90 days" says Marketing Manager Sam Lehnert. "We won't release the monitor until it meets our stringent reliability requirements."
The new monitor will be unveiled at two national trade shows this coming April; FDIC in Indianapolis, IN (booth 7026) and Waste Expo in Atlanta, GA (booth 1262). Attendees are encouraged to stop by the PRO-VISION booth at either show to see the latest addition to the most reliable, simple, and affordable lineup of back-up camera systems.
About PRO-VISION – In 2003, PRO-VISION was incorporated and focused solely on back-up camera systems. 2005 marked their entry into the school bus market which helped their sales top 1 million dollars the following year. The company made their first international sale in 2007, and by 2009, PRO-VISION had expanded into commercial recording systems. During that time, they also released 4-camera school bus systems and made available live video viewing and video file transfer. In 2011, the company expanded into law enforcement recording systems and initiated its overseas sales program. 2013 brought on the 10-year anniversary of innovation and aggressive performance in the commercial video system industry, as well as the expansion of sales into over 24 countries around the globe including South Africa, Great Britain, Australia, Mexico, and Brazil.