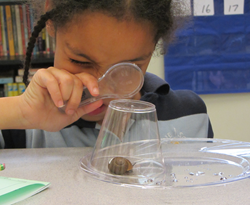 Everyone recognizes the importance of building the character of our students, which also has a positive impact on their academic achievement. – Nadine Laham, Principal of Imagine Weston
Arlington, VA (PRWEB) March 27, 2014
Imagine Schools is pleased to announce that two of its Florida schools are finalists in the 2014 National Schools of Character Program by the Character Education Partnership (CEP). The two schools, Imagine Town Center in Palm Coast, and Imagine Weston in Weston, are among 50 schools and districts nationwide named as finalists.
"Being nominated for a NSOC award is very prestigious, but this initiative isn't about receiving an award. It is about doing the hard work in the classroom and community to transform schools and help kids that is important," said Becky Sipos, CEP Interim CEO. "We congratulate and are very proud all who participated in this process and their focus on developing their schools into fantastic places to learn, grow and create ethical and enthusiastic future leaders in this country."
Schools that apply for National Schools of Character (NSOC) recognition benefit from self-assessment as well as the expert feedback they receive at no cost. Once they reach a standard of excellence, a process that may take several years, they are recognized as Schools of Character and asked to help other schools transform their school cultures. Describing the program as a path to school improvement through high-quality character education, CEP has offered the NSOC program to K-12 schools and districts in the U.S. since 1998.
The 50 National Finalists were selected from an applicant pool of schools and districts across the United States based on the quality of their written applications. In March and April they will undergo an intensive screening process that will include site visits and analysis of the impact of their character-related efforts on academics, student behavior, and school culture.
"Each Imagine campus works hard to ensure all staff members understand their roles as character educators," explains Nadine Laham, Principal of Imagine Weston. "Everyone recognizes the importance of building the character of our students, which also has a positive impact on their academic achievement."
The 2014 National Schools of Character will be announced in early May. Character Education Partnership will honor these schools and districts at the 20th National Forum on Character Education, to be held October 30, 2014 in Washington, DC. Visit http://www.character.org to learn more about the NSOC program and the 2014 National Finalists.
Imagine Schools is a national family of 69 public charter schools educating more than 36,000 students in 11 states and the District of Columbia. Imagine Schools partners with parents and guardians to educate their children, providing high quality schools that prepare students for lives of leadership, accomplishment, and exemplary character. Learn more at ImagineSchools.com.