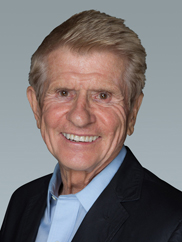 Companies are defined not just by their products and brand but also by their culture.
Los Angeles, CA (PRWEB) April 02, 2014
Dr. Larry Senn Delaney, founder and chairman of culture-shaping firm Senn Delaney, a Heidrick & Struggles company, will provide a presentation, Winning Cultures and Exceptional Customer Experience, followed by a 'fireside chat' with Arby's new CEO Paul Brown on revitalizing a strong culture at the Global Retail Marketing Association (GRMA) 9th Annual Executive Leadership Forum May 15-17 in St. Pete Beach, Fl.
"Companies are defined not just by their products and brand but also by their culture. Culture is what attracts and retains both customers and employees. It defines people's experience in buying from a company and in working for it," says Senn. "Nowhere is this more evident than in retailing where the culture has a profound impact on the firm's agility and ability to keep pace in the fastest-paced industry," he says.
Arby's CEO Paul Brown will share his thoughts about how he and his team are building on strong sales to revitalize the Arby's brand throughout all 3,500 stores. Brown and Senn will have a 'fireside chat' following their presentations to engage the audience in discussing how an emphasis on building a strong culture can be a pathway to profitability and performance.
"By bringing together brilliant thought leaders and expert authorities like Larry Senn and Paul Brown, the GRMA Executive Leadership Forum provides a unique look into the worldwide trends and technologies influencing consumer behavior," says Stephanie Fischer, president & CEO, Global Retail Marketing Association, Inc. "This also includes key strategies that organizations must employ to gain a competitive advantage in a world of marketing that is always in motion."
Other noted speakers at the GRMA executive forum include:
Jim Messina, campaign manager 2012 Obama Re-election campaign
Benjamin Zander, Conductor of the Boston Philharmonic Orchestra
Joshua Cooper Ramo, vice chairman of (Henry) Kissinger Associates, BOD - Starbucks & Fedex, China specialist, and author of The Age of the Unthinkable
Michael Schrage, research fellow, MIT Sloan School's Center for Digital Business
Peter Mclaughlin, bestselling author of Feedback Revolution, Catchfire and Mentally Tough
Erik Brynjolfsson, director of the MIT Center for Digital Business, Professor at the MIT Sloan School of Management, and co-author, The Second Machine Age
Roch Parayre, teaching fellow at the Wharton School of the University of Pennsylvania; co-academic director of Wharton's Full-Spectrum Innovation program.
Bari Harlam, executive vice president of membership, marketing, and analytics, BJ's Wholesale Club.
Learn more about the 9th Annual GRMA Executive Leadership Forum or qualify to attend at http://thegrma.com/
About Larry Senn
Dr. Larry Senn is chairman and founder of Senn Delaney. Larry has led culture-shaping engagements for the leaders of numerous organizations, including dozens of CEOs of Fortune 500 companies, state governors, members of two U.S. president's cabinets, deans of business schools and the presidents of major universities. He has co-authored several books, including Winning Teams, Winning Cultures and 21st Century Leadership. In 2013, he published his latest book, Up the Mood Elevator: Living Life at Your Best. Read full biography
About Senn Delaney
Founded in 1978, Senn Delaney, a Heidrick & Struggles company, is widely recognized as the leading international authority and successful practitioner of culture shaping that enhances the spirit and performance of organizations. Senn Delaney's passion and singular focus on culture, combined with decades of hands-on experience, have resulted in a comprehensive and proven culture-shaping methodology that engages people and measurably impacts both the spirit and performance of organizations. Learn more about Senn Delaney
About the Global Retail Marketing Association
The Global Retail Marketing Association (GRMA) is the premier exclusive and interactive association for retail CEOs, CMOs and executive decision makers. Learn more about GRMA.