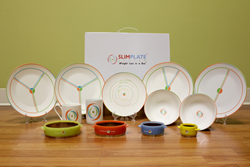 A successful diet should change habits.
Rock Hill, SC (PRWEB) March 31, 2014
Summer is right around the corner, which means losing those pounds from the holidays. One thing that comes to mind when thinking of warm weather is summer vacation! Many head to the beach, and who doesn't want to look good in their bikini or shorts? Becoming beach ready is a great reason to lose excess weight, but it should not be the only reason. One should free their body from limitations and choose to live a healthy lifestyle. A healthy bikini body can be a result from having an effective diet.
"A successful diet should change habits, it should be easy to maintain, and should offer long term results," says Dr. Nwe, "At Ace Medical Weight Loss Center, we offer our clients not only a long term solution to their weight loss, but also motivation to ensure they continue their weight loss journey to a happier, healthier life."
Two practicing physicians, Dr. Nwe and Dr. Grewal created the SlimPlate System to help many change their habits for a healthier life. The SlimPlate System is a portion control weight loss method that includes anything needed for weight loss success. The system is a 4 month weight loss plan packed with plates, bowls, cups and cutters to ensure ones appropriate portions for maximum weight loss. The SlimPlates are lined with colorful markings that show where to place meats, vegetables, and starches. This system allows you to eat five times a day to kick your metabolism into fast mode.
This year Ace Medical Weight Loss Center also launched a free Online Weight Loss Program called "Shaping the Perfect You." This program offers a step by step approach to weight loss from a weight loss doctor. The online program registration is easy to register, all one has to do is fill out the simple form.
Dr. Sandeep Grewal and Dr. Myo Nwe are the founders of Ace Medical Group, the inventors of the SlimPlate System and its related mobile apps. Dr. Nwe is a diplomate of the American Board of Obesity Medicine and Internal Medicine. Dr. Grewal a diplomate of the American Board of International Medicine. He has been named one of Charlotte Business Journal's "Forty Under 40", received the magazine's 2012 "Innovation in Health Care" award and Vitals "Top 10 Doctor" 2013 award.