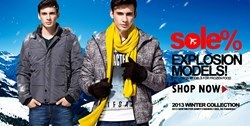 (PRWEB) March 30, 2014
Recently, Skmen.com, China's well-known clothing manufacturer and retailer, has released its new selection of sexy spring dresses. Furthermore, the company has launched a special offer on these high-quality spring outfits. All these newly released items are available at low prices now, up to 28% off.
"We are proud to provide our clients with the new designs of sexy spring dresses and launch the current promotion. All of them are provided at the lowest possible prices at the moment so customers can get real benefits now. We took the decision to launch the big sale because we are encouraged by those who have supported us for several years," the marketing specialist of the company says.
He adds after some minutes, "For additional information, our online workers have already made our website a user-friendly platform. It is convenient for visitors to learn the detailed information about our products and place an order now. Please note that the special offer will come to an end on April 18."
The company's current purpose is to provide more fashionable clothes for new and old customers. It has more than 2000 happy clients from different parts of the world. It is wise to visit Skmen.com before making a shopping decision.
About Skmen.com
Skmen.com, a China-based company founded in 2009, is one of the leading suppliers of men's and women's high quality clothes. It has more than 5000 customers from every part of the world; it hopes to help worldwide stylish ladies and gentlemen. For more detailed information about the company and its wonderful items, readers can visit http://www.skmen.com/product-long-sleeve-dresses-003004007.aspx.