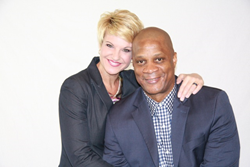 My entire life has changed. I'm doing what I was created to do. I'm grateful for the opportunity to help people in need. – Darryl Strawberry
Wellington, FL (PRWEB) March 29, 2014
Kim Koslow, Founder of Butterfly House, an exclusive recovery residence for women in Wellington, Florida, welcomes her long-time friends, Darryl and Tracy Strawberry, to her sacred space for sober women this Sunday, March 30th for a House Blessing.
Darryl and Tracy Strawberry have both battled addiction for decades. Today, they are ordained ministers, founders of StrawberryMinistries.org and travel around the country speaking to troubled people whom they believe they can reach with their message of hope.
Strawberry, who helped lead the New York Mets to a World Series championship in 1986 and the New York Yankees to three World Series championships, is also now dedicated to helping others avoid the pitfalls that plagued his career with the opening of The Darryl Strawberry Recovery Center.
"My entire life has changed," beamed Strawberry, 51. "It's a joy. I have purpose. I believe that I'm doing what I was created to do and I'm grateful for the opportunity to help people in need," he continued.
Strawberry and Koslow met while in recovery 15 years ago and formed an immediate bond. Their friendship has sustained the course of time. Through Darryl, Kim was introduced to Ron Dock, Interventionist with the New York Yankee organization, who will also be in attendance at the Butterfly House Blessing this Sunday.
"These guys are like my big brothers," said Koslow. "I'm as blessed as blessed can be to have them in my life and as supporters of Butterfly House and its mission of helping women recover from the ravages of addiction."
Butterfly House was founded in 2008 while Kim Koslow was a student of Iyanla Vanzant's institute, Inner Visions for Spiritual Development. Kim earned the Vision Award and Iyanla Vanzant first blessed Butterfly House April 18, 2009.
The House Blessing at Butterfly House this Sunday, March 30th is a private affair and yet a universal matter. "We ask that if you think of it, say a little prayer," added Koslow.
About Butterfly House:
Founded in 2008, Butterfly House, an upscale residence for women recovering from addiction and a member of the Florida Association of Recovery Residences, has helped transform the lives of countless women suffering from the bondage of addiction and emotional trauma. Butterfly House is a 3-month Spiritual Recovery Program founded by a team of professional women, Kim Koslow, LMHC, CAP, CTT, Hester Williams, CBHT, CTT and Elle DuPree, MSW who have devoted their lives to helping women heal.
For more information about Butterfly House or Kim Koslow, please call 954-540-8441 or visit http://www.butterflyhousepalmbeach.com.