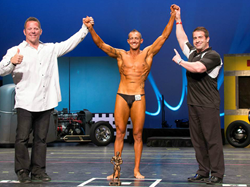 Scottsdale, AZ (PRWEB) March 28, 2014
It takes months of dedication, discipline, training and a lot of sweat to compete in a fitness competition. Thousands of athletes every year put forth the effort to compete in this type of event, but one athlete competing in Saturday night's 2014 NPC Natural Western USA competition stood out. His name is Sean Sparling.
"It is hard enough to maintain the discipline needed to succeed in this competitive environment, but Sean's perseverance was even more impressive after fighting off a deadly disease almost a year earlier," says Jay Chopra, COO for Hi-Health.
In late 2012 Sean went to urgent care with symptoms he thought were related to heat stroke. It turns out Sean had leukemia. Within days, Sean was going through chemotherapy and blood transfusions, and shortly after that, a bone marrow transplant.
"I went from not knowing how to sit still, to being confined in a little hospital room with a small window," says Sean. Sean's wife Lisa said, "After Sean was diagnosed, it made me realize how much the general public and Sean and I were taking our health for granted and we wanted to be a good example for our friends and family and future children." Sean and Lisa were never fitness fanatics, but this life changing event put things into perspective.
Lisa did not let Sean give up. As Sean was recuperating, Lisa took her fitness to the next level. She started training and competed in her first bikini competition in November of 2013. Inspired by his wife, Sean started to train for his own show when he got the green light from his doctor.
Sean reached his goal and hopes his story will motivate others facing life's predicaments. Sean says, "They are just set-backs and if you have willpower and perseverance, you can accomplish anything".
Hi-Health, the presenting sponsor of the 2014 NPC Natural Western USA competition recognized Sean's accomplishment by sponsoring him in this event and presenting him with the 'Most Inspirational Athlete' award.
"Hi-Health is proud to sponsor Sean and commends his spirit of dedication to a healthy lifestyle. Sean's ability to not only overcome a life threatening disease but to be in the best shape of his life a little over a year later is an inspiration to people of all ages" says Jay Chopra.
About Hi-Health
Hi-Health Corp, established in 1972 in Scottsdale, AZ, is a health food and supplement retailer in Arizona. It offers quality products that are approved by governing authorities on safety and health risks. Hi-Health currently serves the Arizona community through 45 brick and mortar stores and available online at http://www.hihealth.com. A strong body of medical and scientific experts, sports and fitness experts and lifestyle coaches who actively engage and contribute to blog (http://www.hihealth.com/blog) and community programs support Hi-Health.
Hi-Health Supermart Corporation operates stores for health foods and nutritional supplements in Arizona.-Health currently owns and operates 45 retail stores across Arizona and online. Hi-Health Supermart Corporation was founded in 1972 and is based in Scottsdale, Arizona.