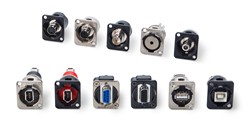 range of connectors that can be easily intergrated into what is known as the unified XLR cutout
UK (PRWEB) March 30, 2014
Action Hardware have been supplying custom patch panels and wall plates for some years now; and with the range of connectors they can now integrate into panels and wall plates, virtually every application can be covered.
The connectors that enable Action Hardware to provide such a comprehensive range are the "EH" range from Switchcraft.
Switchcraft responded to customers' requests that there was a need for a range of connectors that can be easily integrated into what is known as the unified XLR cutout which is known industry wide as the XLR "D" cutout.
Initially, the main customers for these connectors were working in the pro-audio/ broadcast industries and the original range included the XLR pro audio connector range followed by RCA (phono), BNC, ¼ inch Jack. This was soon followed by USB and Firewire options and now includes connectors covering the following types: SVHS, SVGA, 9 way serial, 3.5mm Audio, Toslink, TiniQG, Fibre Optic, "F" type, HDMI, and a range of various switches.
For ease of use, most of the connectors are simple "pass through" types for simple plug in operation both sides of the panel. Other connectors feature simple solder or screw fix options.
In addition to this huge range of connectors, Action Hardware stock a wide range of patch panels in standard 1 and 2U heights from single panels in 8,12,14 and 16 way configuration up to 2U height x 32 way. Also available are a range of single and double gang wall plates with the standard D cutout. These are available in white plastic and steel versions. They are also able to have these wall plates supplied engraved to customers specification.
Action Hardware supply these products on a very short delivery time and have supplied to such diverse markets at Pro AV installers, aerospace, metrology, education and railway signalling markets.
Please contact Action Hardware for further details. The available range can be viewed on the website http://www.actionhardware.co.uk.