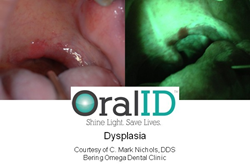 I'm convinced that if we started routinely doing these tests, we could save thousands of lives every year through early detection.
Philadephia, PA (PRWEB) March 31, 2014
April is Oral Cancer Awareness Month and Dr. Stephen Brown is marking the occasion by offering Philadelphia patients free screenings with a new high tech oral cancer detection tool. He hopes to combat the growing epidemic with early detection.
In 2013, over 41,000 Americans were diagnosed with oral cancer; nearly 8,000 died of the disease according to the National Cancer Institute. While oral cancer usually coincides with age, use of tobacco and alcohol, the number of cases linked to Human papillomavirus (HPV) in the last few years has risen 225 percent. Still, the frequency of screenings for oral cancer lags well below that for other types of cancer. Early detection is the most significant factor in survival rate.
"Sixty-three percent of the time oral cancer is found when it is too late, after the cancer has metastasized, resulting in a survival rate less than 50 percent," according to Women's Health Magazine. "If found early, oral cancer survival rate increases to around 80 to 90 percent."
This is why Dr. Stephen Brown, a periodontist in Philadelphia, has brought the ground breaking OralID system into his practice, and why, in observance of the 15th annual Oral Cancer Awareness Month, he's offering screenings in April at no charge.
"It's very important for all adults to be tested for oral cancer regardless of risk factors, and this month you can come in and get this potentially life-saving test for free," Brown said. "Our new OralID system is reliable, simple, and provides the least invasive oral cancer screening available to date. The screening takes less than two minutes to complete."
Dr. Brown is the first dentist in Philadelphia and the Delaware Valley to offer OralID. The system employs fluorescent light to identify cancer and precancerous cells at an early stage. Although this technology is not new, the system is significantly more economical than other devices and it does not require per patient disposables, further reducing the cost.
With user-friendly, inexpensive oral cancer screenings, Brown and other doctors hope patients will be more willing to commit to being screened at least once a year. The complimentary screenings in April should help to jump start that habit for many patients.
"We're trying to change the way people think about oral cancer," Brown said. "Even if you don't smoke or drink, you should to be screened for oral cancer early and often. I'm convinced that if we started routinely doing these tests, we could save thousands of lives every year through early detection."
The Dana-Farber Cancer Institute recommends adults age 18 and older get tested for oral cancer once a year as part of a regular dental exam.
To schedule your complimentary oral cancer screening in Dr. Brown's Philadelphia office during the month of April, go to his website, http://www.theperiogroup.com, or call (215) 735-3660.
About Dr. Stephen Brown: Dr. Brown is a practicing periodontist in Philadelphia, a professor of Periodontology at the University of Pennsylvania and Temple University, and Director of the Dental Implant Center at Albert Einstein Medical Center in Philadelphia. He has been a staunch proponent of oral cancer screenings as an integral part of his comprehensive approach to dental care.