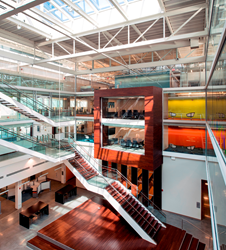 Winston-Salem, NC (PRWEB) March 31, 2014
Winston-Salem-based Inmar today hosted a Grand Opening celebration at its new Team Support Center and Headquarters in downtown Winston-Salem. During the celebration, which included an appearance by the Winston-Salem State University band, Inmar Chairman and CEO David Mounts and leaders from the Innovation Quarter announced a collaborative effort with neighboring Wake Forest School of Medicine's Division of Public Health Sciences (PHS). The effort stands to deliver exactly the type of innovation those who established the Innovation Quarter foresaw more than 20 years ago. PHS, which identifies strategies to enhance public health and prevent disease, will move into the Innovation Quarter next month.
In January and February, Inmar relocated approximately 900 associates to renovated RJR Tobacco Company buildings formerly known as 90-1 and 90-3. The buildings were transformed to a LEED-certified Platinum facility that accommodates Inmar's technology-centered product and service offerings and its highly skilled technologists, data scientists and retail experts.
David Mounts shared that the "Innovation Quarter and Winston-Salem are the perfect setting for Inmar and we are committed to collaborating with our neighboring companies to create a knowledge-based economy right here in our town." He added that, "We have the opportunity not only to grow businesses, but also to deliver innovation through technology that improves the lives of people in our community and across the globe. This collaborative environment is already bearing fruit after just a few weeks and we could not be more pleased."
Eric Tomlinson DSc, PhD, Chief Innovation Officer, Wake Forest Baptist Medical Center, and President, Wake Forest Innovation Quarter, shared that the first meeting between Inmar and PHS generated an idea that could deliver more efficient mechanisms for clinical trial recruitment. The result has the potential to reduce significantly the time-to-market for life-changing treatments for patients and generate revenue for the businesses involved.
"Tenants of the Innovation Quarter such as Inmar and the Division of Public Health Sciences are collaborating to accelerate innovation and bring valuable, sought-after products and services to market faster and more effectively," Tomlinson said.
"The Division of Public Health Sciences and Inmar collaboration is focused on efficiently improving the recruitment of patients into clinical trials," said Gregory L. Burke, MD, MSc, Professor and Chair, Public Health Sciences, Wake Forest School of Medicine. "Importantly, these improvements would speed up the time needed to complete clinical trials and hence would allow for promising new treatments to move more rapidly into clinical practice."
During the Grand Opening Ceremony, Winston-Salem Mayor Allen Joines; Gayle Anderson, President and CEO, Winston-Salem Chamber of Commerce; and John D. McConnell, MD, CEO, Wake Forest Baptist Medical Center, also spoke to the significance of Inmar and the Innovation Quarter for the area. Dr. McConnell commented that the vision that began more than 20 years ago is becoming a reality.
Inmar also hosted the Winston-Salem State University band at the Grand Opening. The band led Inmar associates and special guests along a route through the Innovation Quarter. Children from area schools and those from neighboring businesses also enjoyed the music and elaborate balloons.
###
ABOUT INMAR
Inmar is a technology company that operates intelligent commerce networks. Our platforms connect offline and online transactions in real time for leading retailers, manufacturers and trading partners across multiple industries who rely on Inmar to securely manage billions of dollars in transactions. Our Promotions, Supply Chain and Healthcare platforms enable commerce, generate meaningful data and offer growth-minded leaders actionable analytics and execution with real-time visibility. Founded in 1980, Inmar is headquartered in Winston-Salem, North Carolina with locations throughout the United States, Mexico and Canada.
For more information about Inmar's products and services, please contact 866.440.6917 or visit http://www.inmar.com.
ABOUT WAKE FOREST INNOVATION QUARTER
Wake Forest Innovation Quarter (WakeForestInnovationQuarter.com) in Winston-Salem, North Carolina, is one of the fastest growing and largest urban-based research parks in the United States, with a master plan for as much as 6 million square feet of office, laboratory and mixed-used space over its 145 developable acres. The Innovation Quarter supports a diverse mix of academic, industry and business tenants by providing modern facilities, managed services and special activity features. By the end of 2014, more than 50 technology companies and 26 academic departments and entities employing more than 3,000 scientists, engineers and other professionals are expected to be working in the Innovation Quarter in over 1.1 million square-feet of world-class facilities, alongside annual workforce training in emerging technologies for 1,200 students and with more than 2,200 close-by apartments, lofts and condominiums.
ABOUT WAKE FOREST BAPTIST MEDICAL CENTER
Wake Forest Baptist Medical Center (wakehealth.edu) is a fully integrated academic medical center located in Winston-Salem, N.C. The institution comprises , Wake Forest School of Medicine a leading center for medical education and research; Wake Forest Baptist Health, the integrated clinical structure that includes nationally ranked Brenner Children's Hospital; Wake Forest Innovations, which promotes the commercialization of research discoveries and operates Wake Forest Innovation Quarter, an urban research and technology park; plus a network of affiliated community hospitals, physician practices, outpatient services and other medical facilities. Wake Forest Baptist clinical programs and the School of Medicine are regularly ranked am