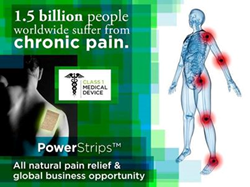 About 1 in 10 people suffer from lower back pain
(PRWEB) March 30, 2014
ForeverGreen International a leading provider of nutritional foods and other healthy products, and the manufacturer of FG Xpress Power Strips which has FDA listing as a Class 1 Medical device useful as a pain relief product is now shipping to over 190 countries around the world.
Des Morgan Director of "The Portfolio Company Limited" and a founding Global Independent Distributor with FG Xpress said, "As a listed Class 1 medical device, the FGX PowerStrips are unique. By focusing heat and energy to the areas where they are applied, PowerStrips can bring relief of pain and discomfort. This is a major differentiator between our PowerStrip patch and nearly all others on the market"
On the 25th March 2014 Time magazine reported that about 1 in 10 people suffer from lower back pain alone. Americans are spending at least $50 billion each year on lower back pain, according to the National Institute of Neurological Disorders and Stroke (NINDS), and it's now the No. 1 cause of job disability around the world.
"We have some amazing testimonials from people who have tried the product and who have experienced pain relief but at the moment we are desperately seeking new Distributors worldwide to help us market the product so that consumers know about this patented, safe and natural, doctor-formulated, brand new, first of its kind, category creator," stated Morgan.
Morgan said, "They are looking for positive entrepreneurial people as Independent Distributors either Part or Full Time and that no selling is required and full training would be given to the right candidates."
To become part of this unique and exciting global expansion, contact Des Morgan direct.
For further information go to http://mypowerstripsforpain.com