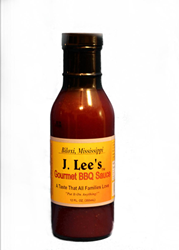 put it on anything
Pfeffilon, Switzerland (PRWEB) March 30, 2014
J. Lee's Gourmet BBQ Sauce, the sauce you can "put on anything" that originated in Biloxi, Mississippi, recently filled the company's first international commercial request. The sauce will now be carried by Passion 4 Food, located in Pfeffikon, Switzerland. Passion 4 Food's representative became aware of J. Lee's Gourmet BBQ Sauce (J. Lee's) through customer testimonials on the internet; and researched the organization via its web page and social media sites. But once they were able to demo the product with their local customer base and the rave reviews came pouring in; it was an easy decision to make J. Lee's Gourmet BBQ Sauce a part of the store's selection. American style barbecue is in extremely high demand worldwide, and J. Lee's is one of the fastest growing brands in the Southern United States.
J. Lee's Gourmet BBQ Sauce has only been bottled for a little over six months. Having an International presence so quickly is a rare accomplishment, but The Sauce Team, or TST, is confident that this is only the beginning. J. Lee's has already placed in the top 1% in its first national bbq competition, is carried by 20+ stores stateside, and is featured at six local restaurants.
The Sauce Team of James Lee, Founder; Ashante Vereen, Sales and Marketing Director; and Curtis Jennings, Public Affairs Representative; continue traveling the Gulf Coast region and beyond, promoting and sampling the sauce to customers at every opportunity. Most recently, TST traveled to Maxwell Air Force Base in Montgomery, Alabama and sold 342 bottles in 15 hours, spanning two days. The people absolutely loved its aroma and texture. They were excited and became quite animated over the unique taste of J. Lee's Gourmet BBQ Sauce. TST is working hard to spread the sauce across the South and eventually nationwide. Internet orders can be placed immediately at http://www.jleessauce.com just in time for the barbeque season.