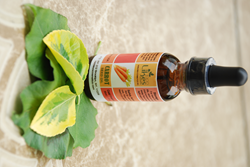 Supermarket chain Whole Foods now also carries the 1000 Likes carrot seed oil, a testament to its quality as this item evidently meets exacting standards for all-natural body care products.
New York, New York (PRWEB) March 31, 2014
Remember those big white fluffy flowers with the sweet, old-fashioned name of Queen Anne's lace? Well, it turns out they're actually wild carrots – and, what's more, the secret ingredient behind a natural skin care sensation. 1000 Likes Cosmetics Company, which manufactures this miracle carrot seed oil, is a fairly new company, in business for less than a year, but already they're even more popular than the name would imply – Facebook page, to date, is closing in on over 1,500 likes, with the total rising daily due to the rave reviews amazing product is getting.
1,000 Likes is dedicated to producing and distributing just one signature product, a cold-pressed carrot seed oil which is made from the finest, purest all-natural ingredients. The product is vegan, paraben-free, and no animal testing was involved in its production. It comes in a one-ounce dark amber glass bottle and is applied with an eye dropper, since only a few drops are necessary to moisturize the entire face or the head.
The natural healing properties of carrot seed oil were discovered thousands of years ago in ancient Greece and India. In fact, the word "carrot" comes from the Greek "caroton", and the ancients held this plant in high esteem for its medicinal value. In modern times, carrot oil has been rediscovered as a natural beauty aid. The oil is extracted from dried carrot seeds by way of steam extraction, which preserves its essential nutrients. Carrot seed oil is rich in antioxidants, which help to prevent and even repair skin damage from sun, smoke, poor nutrition or a harsh environment. Its nutrients include beta carotene, Vitamins A and E and provitamin A. Carrot seed oil nourishes dry or aging skin, and can even reduce the appearance of fine lines and wrinkles. Carrot seed oil has a natural SPF of from 38 to 40, so it can also serve as a topical sunscreen.
1,000 Likes suggests that the product be directly applied to the face as an overnight moisturizer, or a few drops added to skincare products such as body lotion, moisturizer, makeup remover, face masks, sunblock, shower gel and lip balm. It will help improve skin tone, elasticity and overall health. Carrot seed oil is even good for the hair – a drop or two massaged into the scalp or added to shampoo or conditioner can help to make hair soft and shiny and promote healthy growth. When rubbed into the tips of the hair, it can also prevent and repair split ends. Carrot oil is easily absorbed without leaving a greasy or sticky feeling, and helps hair and skin cells to rejuvenate. It is suitable for all skin tones and skin types, from extremely dry to very oily and everything in between.
http://www.1000likescosmetics.com
Carrot seed oil from 1,000 Likes is now available from the online retailer Amazon.com, where it has received nothing but 5-star reviews from extremely satisfied customers. Users praise its fresh, light smell, its handy compact size, and the fact that it leaves their skin looking and feeling great. Results are evident after just a few days use, and the product is even safe for use on children. Brick-and-mortar natural foods supermarket chain Whole Foods now also carries the 1000 Likes carrot seed oil, a testament to its quality as this item evidently meets exacting standards for all-natural body care products.
With such a high-quality and budget-friendly, not to mention 100% pure and natural beauty product, the company may soon have to consider changing their name to 10,000 Likes, or maybe even 100,000 or... who knows, since the sky's the limit when it comes to something that makes people look fantastic and feel wonderful. 1,000 Likes carrot seed oil is well on its way to being the next skincare success story.