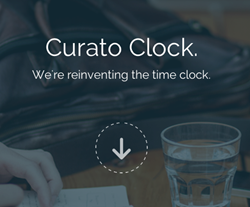 Curato Clock packs an abundance of innovative features to manage work practices and employees with ease.
Calgary, Canada (PRWEB) April 01, 2014
Curato Technologies, an up and coming company from Calgary developing innovative solutions for businesses, is launching preorders for its latest business solution. Curato Clock is an iPad application that stretches beyond capability, allowing employees to clock in using state-of-the-art facial recognition technology, as well as time, attendance, scheduling, payroll and inbox management from the app and a dedicated web panel for employers. Facial recognition technology helps to limit the workplace practice of 'buddy punching', in which costs American employers approximately $98B a year. While solving the issue of buddy punching, Curato Clock hits the nail with its time-saving features.
Curato Clock packs an abundance of innovative features to manage work practices and employees with ease. For employees, the application allows for facial recognition clock ins, voice control commands, schedule viewing, requesting time off and inbox conversations with employer(s). For employers, Curato Clock offers a two-tiered management solution – the employer dashboard on the app and the web admin panel. Both panels allow employers to manage and add employees, create and update shifts, manage time off requests, send important messages, view employee time transcripts and manage payroll.
In November 2013, the concept of the application was recognized by business mogul and television personality, Kevin O'Leary, who offered the 16-year-old founder Rami Ghanem a grant to kick-start the time clock business. Among the crowd, COO of Tim Hortons David Clanachan told Rami, "I am truly excited for your vision to become a reality that can be applied not only to our restaurants, but to others in the industry." Fast-forward almost five months, businesses of the public can now preorder a subscription of Curato Clock ahead of its official launch.
App subscriptions won't activate until Summer 2014, but Curato Technologies is allowing businesses and chains to preorder their subscriptions for a discounted price before they increase during the official launch in the summer. Subscriptions are starting at $30/month for business with under 10 employees, and reach upwards $75/month for a business with 31 to 40 employees. Chains and large corporations can contact the support team for a tailored solution. Employers and storeowners can take a look at the subscription costs on the website (http://www.curatoclock.com), as well as take an expanded look into the individual features.