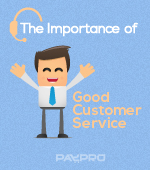 Customer service can be called as a synonym for conversion.
Toronto, Ontario, Canada (PRWEB) March 31, 2014
PayPro Global the eCommerce solutions provider for Software, SaaS and Cloud companies, announced today the release of the results of their research on the impact of customer service on eCommerce business results. The data is compiled in a digestible infographic format, which is available for download free of charge here.
The research is based on data collected throughout the years of PayPro Global's experience in the digital eCommerce industry. The idea behind the research was to demonstrate that the customer service is not to be neglected in the process of selling such experience goods as Software, SaaS and Cloud products. Besides the quality of the response, the research demonstrates that time is a key factor in the process of successful customer acquisition and retention. The results show that however easy it is to buy a product online, many questions still arise in this process and customer support should be prepared to eliminate psychological roadblocks in the purchasing process for the customers. Referring to third-party data; Connecting Customers Report, conducted in 2013, shows that 83% of online customers require assistance to complete a purchase. Just this piece of data demonstrates that businesses just cannot afford to have a weak customer service for their customers. Customer service can be called as a synonym for conversion.
"From the very foundation we have stressed the importance of good customer service in eCommerce. This is why we always hire the most talented and experienced representatives and invest in their training to raise the bar in customer support for the digital eCommerce industry as a whole." says Meir Amzallag, CEO of PayPro Global. "As software business is essentially a global business, we have developed a system that covers all global time zones, we have a certain number of employees on duty at all times to be there whenever and wherever they are needed. This way we have achieved one of the fastest response time rates in the industry of under 29 minutes, and we are talking only about the e-mail requests here. Our call center is operational 24/7 without weekends or holidays," he concluded.
About PayPro Global
Founded in 2006, PayPro Global Inc. develops and hosts the best eCommerce solutions that allow anyone to easily sell software online. PayPro Global supports global payments, regional currencies, local payment methods and multilingual checkout.The company also offers software developers state-of-the-art licensing, activation, and anti-piracy protection for their applications.
PayPro Global Inc is headquartered in Toronto, Canada, with development centers in Ramat Gan, Israel and regional offices in New York, USA, and London, UK.
Web site: http://www.payproglobal.com
Blog: http://www.howtosellsoftware.net
Twitter: @paypro_global