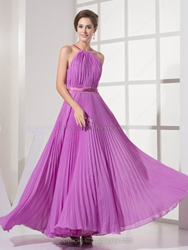 (PRWEB) March 31, 2014
A fashionable women's dresses online supplier, Msdressy.com, is offering its lilac prom dresses at discount prices to catch more market share in this shopping season. To top it all, these trendy designs are now on sale at the company's website, up to 78% off.
The company's CEO says, "The special offer is a great opportunity for those who are thinking of buying a fashionable prom dress online. Each of them follows the latest fashion trends in the current market."
"Now, all our lilac prom outfits are available at the lowest possible rates. These discounted items are as wonderful as other outfits from our company in terms of style and quality. They are specially designed for those who want to look chic and elegant. As you know, charming prom gowns from our company have great market performance; a lot of them have greatly stimulated our business growth," the sales manager states.
And for those in the current stages of prom preparation, this major retailer has added more prom styles to choose from a range of spring color palettes like lilac, lime, aqua, pink, nude and many more fresh and sparkly hues. Msdressy knows the latest trends in the fashion industry, and provides good tips for girls such as avoiding bold and large patterns with heavy fabrics.
About Msdressy.com
Msdressy.com always meets the growing demand for graceful special occasion dresses in the global market. All the products are carefully made for stylish ladies who want to shine among the crowd. Encouraged by clients who have supported the company for a long time, Msdressy is striving to create more customer-oriented dresses.
See more at http://www.msdressy.com/prom-dresses-c-2/lilac_42.