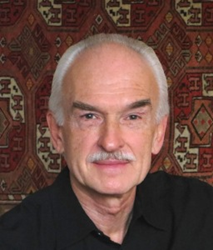 New York, NY (PRWEB) March 31, 2014
Newly opened Russian Central Asian restaurant with live music, Moscow 57, located at 168 1/2 Delancey Street, is hosting a cocktail party to celebrate the release of the paperback edition of THE BLACK RUSSIAN by Vladimir Alexandrov on Thursday, April 17th from 6:00 to 8:00pm. THE BLACK RUSSIAN will be available for sale at the event and at the restaurant afterwards.
Called "[An] extraordinary story . . . [interpreted] with great sensitivity," by The New York Review of Books, and praised by Booklist as one of their Top Ten Biographies of 2013, The San Francisco Chronicle (also a Top Ten book of 2013), The Cleveland Plain Dealer, The Daily Beast and Henry Louis Gates, Jr., and Cornel West, among others, THE BLACK RUSSIAN is the incredible true story of Frederick Bruce Thomas, a son of former slaves who pursued a dream of freedom, wealth, and happiness that took him across Europe in the early twentieth century.
After his father, a former slave who had become a prosperous farmer in Mississippi, was brutally murdered in 1890, Frederick left the South and worked as a waiter in Chicago and Brooklyn. Seeking greater freedom, he traveled to London, then crisscrossed Europe and – in a highly unusual choice for a black American at the time – went to Russia. Finding no color line there, Frederick settled in Moscow, becoming a rich and famous owner of variety theaters and restaurants. When the Bolshevik Revolution arrived in 1917, he fled to Constantinople, where he made another fortune by opening nightclubs as the "Sultan of Jazz."
THE BLACK RUSSIAN is an inspiring and moving biography of the most unexpected of heroes, and a tour of changing historical and cultural landscapes that spans continents, wars, and revolutions.
Vladimir Alexandrov (http://www.valexandrov.com) grew up in New York City in a Russian émigré family and wanted to be a scientist from an early age. However, after getting Bachelor's and Master's degrees in Geology from Queens College and The City College of New York, he decided that he'd learned enough about the natural world but didn't understand himself or other people. His solution was to switch to studying literature and the humanities, which resulted in getting a Ph.D. in Comparative Literature from Princeton. After teaching in the Slavic Department at Harvard, he moved to Yale University in 1986, where, as B. E. Bensinger Professor of Slavic Languages and Literatures, he continues to teach courses on Russian literature and culture. He lives in Hamden, Connecticut, with his wife, who teaches Spanish at Yale, and has a son and daughter who are both studying for advanced degrees.
Moscow 57, the hospitality and entertainment company, was launched several years ago by partners Ellen Kaye, Seth Goldman and Ethan Fein. For the past two years, the company has been hosting its M57 Urban Salons, evenings of music, food and digital visual art displays, in Harlem; Washington Heights; Chelsea; the Upper East Side; the East Village; Governors Island; New Milford, Connecticut; and New Orleans. Moscow 57 has made New Orleans a home away from home, with regular forays into that city's world-renowned culture of Southern hospitality, regional cuisine, and world-class entertainment. After performing at and co-producing events with New York's Corcho Wine Room, as well as celebrating Latin American culture in New Orleans, this cosmopolitan attitude is being brought to Moscow 57's permanent home on New York City's Lower East Side every night.
Moscow 57 Entertaining is developing projects for film, television and theater. Its music company produces podcasts, live performances, recordings and videos. Moscow 57's first CD releases have already garnered national radio airplay, and the company's videos can be seen on the Moscow 57 Entertaining YouTube channel. The company's M57 podcast will be streaming live on Sunday nights.
The company is an ongoing supporter of a wide variety of charitable events, including Holiday House NYC, The New York Women's Foundation and The New Orleans Musicians Assistance Foundation.
THE BLACK RUSSIAN is published by Grove Press/Atlantic Monthly Press and retails for $17.00 (336 pages); paperback; March 11, 2014; ISBN: 978-0-8021-2229-2)
For more information contact Ellen Kaye at Moscow 57 646-584-2387 or ellenkaye(at)moscow57(dot)com