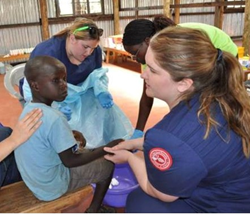 The students tell me that these experiences are having a profound impact on their perspectives on life and on their clinical practice as registered nurses.
McMinnville, OR (PRWEB) March 31, 2014
Linfield has recently established agreements with international healthcare agencies in Costa Rica, Kenya, and Nepal, to enable registered nurses who are enrolled in Linfield's online RN to BSN degree completion program to conduct their senior clinical experience in international settings.
This senior clinical experience is part of the capstone course in Linfield's RN to BSN program of study, Integrated Experiential Learning (IEL). This final course requires students to participate in experiential activities in a healthcare community with a nurse leader.
The purpose of the IEL clinical experience is to enable students to bring together everything they have learned the nursing and liberal arts courses, and to apply their insights and knowledge in a new setting while gaining firsthand experience. This immersion experience in nursing is often arranged in a local facility or organization where the registered nurse is licensed. Now for those who wish to travel and experience healthcare in an international setting, Linfield RN to BSN nurses have the opportunity to travel abroad to complete the clinical placement.
Each of the international clinical partner agencies provides Linfield nursing students with opportunities to practice leadership, management, and population-based nursing care. As an added bonus, the agencies also arrange for cultural exchange opportunities while traveling abroad. The RN's who carry out an international IEL apply their knowledge of cultures, global health and population health to healthcare as it is being provided in an international setting.
The international clinical experiences are approximately two weeks in length, which includes the nursing experience and time for cultural exchange, and travel. Linfield ADP student, Maureen Fox, RN, who will be travelling to Eldoret, Kenya, for her IEL, views this opportunity as enabling her to "advocate for social justice and health equity."
In Eldoret, Kenya, prior internationally travelling RN to BSN students have provided medical clinics in villages through the sponsorship of the Open Arms Volunteer Agency which also has a 52 acre village of homes for orphaned and abandoned children. Fox will be working at the agency's orphanage and assisting a feeding program and doing medical assessments and treatments for children in the orphanage.
Linfield's Adult Degree Program supports students in their preparation for, and after their return from the international clinical experiences. Students journal about their experiences while in-country, and they have online class discussions after they return to their local communities. Linda Luce, MS, RN, IEL Coordinator for Linfield's RN to BSN program, and Visiting Assistant Professor of Nursing, describes the impact on students from the international clinical experiences:
"When students immerse themselves in another culture they appreciate the people and the culture where they visit, and they become much more empathic to people with whom they interact in their nursing practice back home."
Fox is grateful for the opportunity to gain educational credits at an affordable tuition rate while doing work abroad. She says, "Travelling internationally for a clinical experience is a rare opportunity and one that few get to take."
Luce adds, "The students tell me that these experiences are having a profound impact on their perspectives on life and on their clinical practice as registered nurses."
About the Linfield College Adult Degree Program
Chartered in 1858, Linfield College is one of the first colleges in the Pacific Northwest and is regionally accredited by the Northwest Commission on Colleges and Universities. The Adult Degree Program offers adults the opportunity to earn a bachelor's degree or certificate online in ten fields of study.
Online programs offered by Linfield College Adult Degree Program include an online management degree, business information systems degree, accounting degree, online marketing degree, RN to BSN degree and international business degree and certificates in human resource management, post baccalaureate accounting, computer information systems, and marketing.