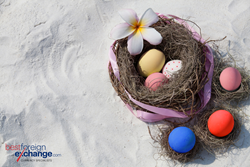 London, UK (PRWEB UK) 3 April 2014
Outbound travellers from the UK will enjoy cheaper travel expenses due to the strengthening British pound compared to many foreign currencies.
It is estimated that over 2 million British holiday makers will travel overseas during this Easter holiday period. As many travellers opted to buy their travel money in advance they benefit from the strong British pound and will receive more value in euros, dollars and other major currencies.
BestForeignExchange.com, the online arm of Thomas Exchange Global Ltd, has found that a lot of its customers are seeing this benefit when they exchange British pounds into numerous foreign currencies.
The increase in UK's retail sales was 1.6 percent higher in the three months to the end of February compared with the previous three-month period, Reuters reported on 27th March 2014. As a result the pound rose to $1.6627 after the retail sales data, from $1.6570 within the day.
According to TravelMoneyMax.com, a comparison service, the best deal for £500-worth of US Dollars is $822.50 with BestForeignExchange.com, on Friday the 28th, handing travellers additional travel money compared to the end of July last year.
"That is a 80 dollar extra bonus, which is good news for UK travellers holidaying this Easter season," Trevor Samuel highlighted.
In addition to major international currencies, the exchange rates of currencies in some popular tourist destinations such as the East Caribbean Dollars, Thai Bath and Singaporean Dollars also increased.
However these attractive exchange rates is not offered to customers in some instances especially at airports and when using bank cards where charges are applicable.
"My advice is to buy currencies in advance avoiding poor rates at airports and reap the benefit of the upward trend in the market," concluded Trevor Samuel.
About Best Foreign Exchange.com
Owned and operated by Thomas Exchange Global, BestForeignExchange.com offers the most competitive exchange rates in London and customers that reserve currencies online will be assured the same exchange rate until close of business on the particular day despite any adverse fluctuations. They stock the widest range of foreign currencies in London with over 120 types of foreign bank notes. All foreign currency buy/sell transactions are free of any commission or charges.
Thomas Exchange Global also offers International Money Transfer Service where funds can be remitted to overseas bank accounts within 1 to 2 days. With commission free service for transfers over £10,000 backed by competitive exchange rates, customers are assured of a better deal and a substantial saving compared to banks and money brokers. Thomas Exchange Global branches are located at Strand, Victoria Street, Liverpool Street, Hammersmith, Cannon Street and London Wall.
For further details visit https://www.bestforeignexchange.com/index.php or call 020 7240 1214.