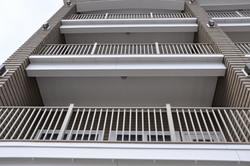 We looked at a lot of different options and DryJoistEZ worked out to be the most economical for the application.
Gainesville, GA (PRWEB) March 31, 2014
Wahoo Decks, a leading manufacturer of award winning outdoor decking products announced today that Whitcher Builders will be using DryJoistEZ (US Pat No. 8,276,344), a structural deck drainage system that provides the structure of the deck, a waterproof solution and a finished ceiling with a traditional beadboard appearance, as well as Wahoo Rail, for its second phase of multi-level Oceanside condos in Hampton, New Hampshire.
When it came to building Sea Spray Condos it was important that Stuart Mitchell, operation manager of Whitcher Builders, find an application that was economical and easy to install. Mitchell stated, "We looked at a lot of different options and DryJoistEZ worked out to be the most economical for the application. The main reason we found it to be economical is the ease of installation."
In addition to the ease of installation, Whitcher Buliders also chose DryJoistEZ for its watertight beadboard appearance for the Sea Spray's multi-level condo balconies.
"Both the decks and walkway required that they not allow for water to drip through as the space below each deck and walkway was another deck and walkway. Because of the design we found that the DryJoistEZ system was the most economical way to accomplish this design criteria," said Mitchell. Since DryJoistEZ serves triple duty as the structure of the deck, a finished ceiling and a waterproofing solution, Whitcher Builders was able to accomplish the design criteria of the balconies on the project in one step.
For railing on the Sea Spray Project, Whitcher Builders decided to go with Wahoo's aluminum railing, Wahoo Rail. "The reasoning behind the Wahoo Rail was simply because it is designed to work with DryJoistEZ . . . it is architecturally pleasing and very easy to install," said Mitchell.
Wahoo Rail powder-coated, aluminum railing will not rot, splinter or warp over time. The Wahoo Rail on the Sea Spray project was pre-assembled at the Wahoo factory and shipped directly to the job site in complete panel sections. The factory, pre-assembly option for the rail is just another example of Wahoo Decks' determination to reduce cost on the install side for decks and balconies in multi-family applications.
Whitcher Builders has selected DryJoistEZ and Wahoo Rail as its 'go to' product for balcony applications. "We are doing another project on the books where we will be using Wahoo Decks' products as well," said Mitchell.
About Wahoo Decks
Headquartered in Gainesville, Georgia, Wahoo Decks is a leading manufacturer of award winning outdoor products. Wahoo products have been engineered to be uniquely low maintenance and more resistant to natural elements than traditional decking products. Wahoo Decks offers AridDek, a waterproof aluminum decking product and Fortis, a non-watertight aluminum deck board. In addition to DryJoist and DryJoistEZ, a revolutionary waterproof and structural aluminum joists, Wahoo Rail a complete line of aluminum railing kits, and Wahoo Complete, an all-in-one pre-fabricated aluminum balcony product. For more information about Wahoo Decks, visit http://www.WahooDecks.com.