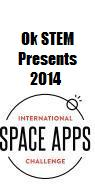 The event culminates in a 48 hour hackathon where teams compete to come up with the most viable solutions to the subject challenges.
Oklahoma City, OK (PRWEB) March 31, 2014
Metro area engineers, technologists, scientists, designers, artists, educators, students, and entrepreneurs will be helping other sites around the world tackle issues concerning the challenges of space exploration and social need. The event culminates in a 48 hour hackathon where teams compete to come up with the most viable solutions to the subject challenges.
Preparations for this year's NASA International Space Apps Challenge are in full swing in Oklahoma City! The Oklahoma chapter of the event will be organized by the Oklahoma STEM Foundation and expects to have a sizable turnout. Participants will collaborate to build software, open hardware, data visualization, and citizen science platform solutions that contribute to solving global challenges focusing on the improvement of life on earth.
The 2014 Space Apps Challenge will be hosted at ITT Technical Institute in OKC on April 12-13. Visit our site page for an itinerary. Use of the facility will include a "nap area" and snacks for participants. All ages are invited to enter, however any applicant under 13 years of age must have a parent or guardian sign up for them. Registration for this event can be accessed through the Space Apps site. This year the challenges will feature five topics: robotics, space technology, human spaceflight, Earth watch, and asteroids. In addition, data and education challenges will cut across all five topics. Awards will be issued based on evaluation by a panel of judges consisting of representatives from NASA and other governmental and non-governmental organizations. Many more solutions will also be nominated for global recognition and possible implementation.
Some of this years challenges include: "ExoMars Rover is My Robot"- try to test actual functionality using robotic hardware/software. Build a functional robotic model of the ExoMars rover for educational purposes. "Bring the Internet to Deep Space"- create an app that can use NASA given protocols to focus on different types of network challenges. "Pilot a Satellite"- Create a visualization tool so people have a view from a satellite as it moves in orbit or transfers orbits and "Earth as Art" - create a way for people to find beautiful images in the Earth-observing satellite image archives, nominate them, and let people vote for their favorites. The results of this global effort lead by the National Aeronautics and Space Administration in the 2013 International Space Apps Challenge were incredible. Over 9,000 hackers, designers, and students from 83 cities and all corners of the world made this the largest hackathon in history. An unbelievable 770 solutions were submitted, and created an immense amount of enthusiasm and productivity in exploration.
Participation in this years challenge is expected to exceed last year's incredible results, with cities across 5 continents competing to solve Earth's next big hurdles in robotics, space exploration and technology.