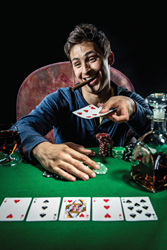 Identify "hot spots" that can assist poker players at gaining a scientifically based advantage...
Tulsa, OK (PRWEB) April 02, 2014
Face2Face Consulting is ready with its new course for the Poker community. This course will teach poker players the techniques of identifying the micro-expressions of other poker players. This one day course will be offered to attendees at the Hard Rock Casino in Tulsa, Oklahoma on May 16, 2014 from 9:00 am to 4:00 pm.
According to the company's website, http://www.pokerfaceadvantage.com, the introductory course will help people identify "hot spots" that can assist poker players at gaining a scientifically based advantage. At the end of the course, players will be able to discern myths from science on how to determine an opponent's true tells, as well as evaluate their own aptitude of emotional awareness in the poker room. From poker aficionados to the casual poker night player the courses will teach players to be familiar with macro and micro expression on other players faces grounded in 40 years of scientific research. Attendees will practice these skills in a safe environment utilizing the research and science of a Paul Ekman approved trainer.
# # #
About Face2Face Consulting
Face2Face Consulting was founded to offer training, consulting, coaching and resources related to the ways in which emotions impact leadership, alignment, credibility, and cultural competency. Our perception of others and how we are perceived affects our individual and organizational impact. Face2Face Consulting is dedicated to developing effective leaders, raising emotional and cultural awareness, promoting truthfulness and authenticity, and ultimately contributing to creating a more just and compassionate world.
Paul Ekman is a renowned psychologist and emeritus psychology professor at the University of California Medical School, San Francisco. The science of micro expressions and understanding emotional consciousness is based on his research. His work may be familiar as it was the basis of the hit TV show on FOX Network 'Lie To Me'. Dr. Ekman has helped a number of people from different fields such as sales professionals, law enforcement agents, psychologists, legal professionals and human resource professionals. This event by Face2Face consulting marks the entry of the application of his work into the poker world.