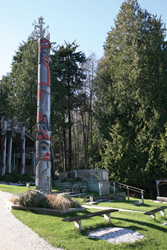 Seattle, Wash (PRWEB) April 02, 2014
Many people don't know that just eight miles west of Seattle's waterfront on Blake Island, there are more than 50 Native American carvings and totem poles. Beginning April 5, 2014, guests will once again be able to take guided tours of the totem poles and carvings after each performance at Tillicum Village.
The 15-20 minute guided tour includes a short walk through the Totem Pole Garden and Longhouse where guests will hear about the history of Native American totem poles and carvings, all of which were created by local Native American artists. One of totem poles featured in the guided tour, "Raven Steals the Light" was carved by Alex Joseph (Salish) and Louis Larsen (non-indigenous). This pole was carved on the grounds of Tillicum Village out of western red cedar that is approximately 150 years old. It came to Tillicum Village from the western slope of Washington's Cascade Mountains near Darrington, Wash.
With more than 50 carvings and totem poles at Tillicum Village guests get a truly authentic Native American experience where they can get up close to some of the Pacific Northwest's most beloved treasures.
For reservations go to http://www.argosycruises.com or call (206) 623-1445.
About Argosy Cruises:
Argosy took over complete operations of Tillicum Village in March 2009. Tillicum Village was founded in 1962 and is the quintessential Northwest experience. Argosy has been operating in the Puget Sound region for more than 60 years, has carried more than eight million people, and has been family-owned and locally operated since its inception. In addition to Tillicum Village, Argosy Cruises ]offers its guests narrated tours, dining cruises, themed events and private charters.
# # #