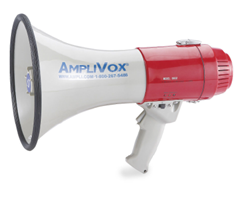 "The bullhorn came in handy when we had a safety issue in our plant and confusion broke out. We were able to communicate over the noise and controlled the situation."
Lake Oswego, OR (PRWEB) April 03, 2014
Most of us, at one time or another, have been some place where the noise is extremely loud or confusion is causing disorder among crowds of people and the need to communicate and be heard is not getting through by using a typical microphone or loudspeaker. Creative Safety Supply is now offering bullhorns that can be heard over long distances. The bullhorns equipped with 25 Watts are capable of reaching distances up to a mile. This affordable product is a great solution for communicating instructions and directions when safety issues arise.
Features of the bullhorns include three settings: Whistle, Talk, and Siren. What better way to get people's attention then a screeching siren followed by your talking voice to disarm panic and establish calmness by announcing where shelters or exit areas are located. The lightweight weatherproof ABS plastic material of the bullhorns is perfect for any type of weather related situation and will not break if accidentally dropped. The light weight bullhorn, with a pistol-grip talk switch, make it comfortable to use over a long period of time without any discomfort to the user's hand or arm. The easy-loading battery cartridge makes it easy for anyone to change out batteries quickly and easily.
Communicating directions and instructions in hazardous conditions can mean life or death. Bullhorns can get that message across. Bullhorns are a great product for safety programs and can be a tool for lean management when they are used for communicating organization by squelching confusion. A plant supervisor commented, "The bullhorn came in handy when we had a safety issue in our plant and confusion broke out. We were able to communicate over the noise and controlled the situation."
For more information about 1 Mile Bullhorns, please contact Creative Safety Supply at http://www.creativesafetysupply.com or call toll-free (866)777-1360 to speak with a professional representative.