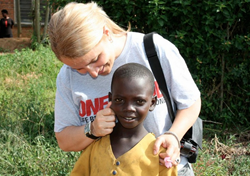 It's time we bring the discussion of food insecurity in Canada to the forefront. - ONEXONE Founder, Joey Adler
Toronto, ON (PRWEB) April 02, 2014
In an effort to address the shocking reality of food insecurity in North America and around the world, ONEXONE is calling upon humanitarians to join the plight to end hunger at the Inaugural Million Meals Movement on Friday, May 23, 2014 at the Sony Centre for the Performing Arts featuring Simple Plan, MAGIC!, Alyssa Reid & Kardinal Offishall.
With this year's proceeds benefitting the ONEXONE and Simple Plan Foundations, the movement will kick start the community-based initiative and journey of eventually packing one million meals for children in need across North America. Sodexo, world leader in quality of life services, who serve 1 million customers daily, has joined the movement by providing meals that will be packed and distributed in Toronto and Montreal.
After packaging meals at INK Entertainment venue Kool Haus, the day will cap off with a star-studded concert produced by Live Nation including multi-platinum band, Simple Plan, reggae-pop band MAGIC!, and "Alone Again" breakout star, Alyssa Reid. Rapper and humanitarian Kardinal Offishall will also take the stage as ONEXONE's musical ambassador, a unique role committed to helping the cause. Complete with a red carpet and all-star Canadian talent, the Million Meals Movement hopes to not only alleviate hunger across North America, but also spread lesser-known facts: just $1 can provide a child with a healthy breakfast, which positively impacts learning, creativity, test grades, and even attendance.
"It's time we bring the discussion of food insecurity in Canada to the forefront," says Joey Adler, Founder and Chair of ONEXONE. "The idea of not having a meal to eat is a very serious reality for many Canadian families. There is no reason why hunger should exist, and ONEXONE is inviting everyone to take a stand and help make a difference by joining the movement to end hunger."
In addition to initiatives operating around the world, ONEXONE has provided over 500,000 nutritious meals to over 4,000 Canadian children in need through their School Breakfast Program. Spearheaded by entrepreneur and modern advocate, Joey Adler, and supported by Pepsi, Sodexo and De Beers, ONEXONE hopes to start a large-scale movement against hunger in North America. Be part of the solution at the Sony Centre for the Performing Arts on Friday, May 23, 2014 and join ONEXONE in the fight against hunger! For more information on the Million Meals Movement, visit: http://www.millionmeals.ca designed by Pulp & Fiber company, The Community. Tickets start at $49.50 and are available on Friday, March 28 at 10:00am at: http://www.ticketmaster.ca. To donate to Million Meals Movement go to: http://www.icangowithout.com
For all media related inquiries regarding Million Meals Movement, please contact: Ashley MacIntyre | ashley(at)macintyrecommunications(dot)com | 647.200.9135
For all media related inquiries regarding ONEXONE Foundation, please contact: Angie Camara | angie(at)onexone(dot)org | (o) 416-901-1291 (c) 416-452-7643