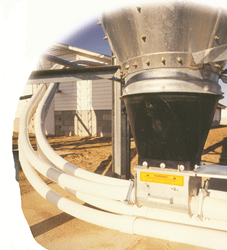 Myerstown, PA (PRWEB) April 03, 2014
Farmer Boy Ag is pleased to announce Automated Production Systems (AP), Cumberland Poultry, and Hired Hand, the leading manufacturer for livestock and poultry equipment has taken big steps in improving their, flex auger system by adding the 300P Auger to their product line.
AP, Cumberland, and Hired Hand are a world-class swine and poultry production equipment manufacturer offering complete innovative solutions for feed systems, feed storage and delivery, watering systems, ventilation and controls, heaters, nesting, and more. Focused on meeting the ever changing needs of the livestock and poultry industry, they offer a complete line of reliable production equipment that's easy to install and maintain.
The 300P was designed as the use of pelleted feed became more popular. The standard auger does not move pellets as efficiently or effectively as the 300P. A new method was created to make the coil, which increased its strength and the pitch of the auger. All these changes, in addition to the space increase which eliminates the need for restriction, help this 300P system convey the pellets easier than before.
Features & Benefits of the 300P Flex Auger System:

Designed for pelleted feeds (Can be used for all feed types)
Easy to retrofit to an existing auger system
No restrictor baffles required, one slide gate at a time can be opened 100%
Identical feed flow from all tanks
Similar system design requirements as M300 systems, an industry favorite
Specifications of the 300P Flex Auger System:

Maximum Particle Size - 0.125"D x 0.5"L (3.18mm x 12.7mm)
Maximum Moisture Rate - 18%
Feed Delivery Rate - 50 lbs. (22.7kg)/Min. or 3000 lbs. (1360.7kg)/Hr.
Type of Feed & Delivery Rate - Ground, Mash, Small Particle & Pellets at 50 lbs. /Min. or 3000 lbs./Hr.
Maximum Distance w/ 1 BFT - 210' / 64 M & Maximum Distance w/ 2 BFT - 160' / 48.8 M
Maximum Extension Distance - 240' / 73.2 M
Maximum Daily Run Time - 4 Hours
Farmer Boy AG, Inc. has been at the forefront of the livestock and poultry industry, constructing facilities for these industries as well as providing a complete line of parts and supplies to keep those facilities running for years to come. Regardless of market conditions, Farmer Boy Ag strives to give customers "The Best Value in Ag Supplies!" For more information on the new 300P Flex Auger System and parts, contact the Farmer Boy AG Sales Department at (800) 845-3374.