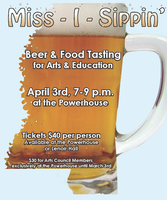 Pickling is a very hot trend and having a partner such as Red Smith encouraged students to explore both historic and current food trends.
Fort Lauderdale, FL (PRWEB) April 01, 2014
The organizers for the sixth annual Miss-i-sippin' tasting event scheduled for April 3, 2014 from 7:00-9:00 pm at the Powerhouse Community Arts Center, have unveiled this year's menu. The addition of several new sponsors inspired a plate full of updated culinary creations. New culinary sponsors for the event include Red Smith Foods, Nielsen-Massey Vanillas, Golden Flake, and Cups Espresso Café. Yalobusha Brewery, will be joining other Southern breweries, Abita and Lazy Magnolia, providing tasting stations in addition to almost twenty other beers. Different than a beer festival, Miss-i-sippin' is a culinary event aiming at pairing different beers with custom created recipes developed by students in the Hospitality Management program at the University of Mississippi.
Red Smith Food s, a leader in pickled foods, worked with students to develop recipes that focused on the southern tradition of pickling. The culinary creations developed for the event include a pickled deviled egg using Big John's Pickled Eggs, an assortment pickled veggies from Yokna Bottom Farms, and Big John's Red Hot pickled sausage skewers. Wayne Andrews, Director of the Yoknapatawpha Arts Council and co-organizer of the event, shared, "These products inspired the students to think about a different way to prepare, season, and serve foods. Pickling is a very hot trend and having a partner such as Red Smith encouraged students to explore both historic and the current food trends."
Nielsen-Massey Vanillas provided the students with an assortment of vanillas and extracts. The students created light and sweet marshmallows to be paired with darker beers and coffee. Nielsen-Massey, a family owned business, has crafted the world's finest vanillas and flavors since 1907. They challenged the students by providing Madagascar Bourbon Vanilla, Rose Water, Almond, Peppermint and Orange extracts. Cups Espresso Café, with a location on Jackson Avenue in Oxford, will be offering one of their blends specially selected for the sweet treats.
The students were further inspired to blend salty and sweet and developed a recipe for chocolate covered potato chips, corn chips and pork rinds. The results were then cleverly named Pork Chocs & Chocolate Chips. This encouraged the South's original potato chip, Golden Flake, to donate an assortment of flavors to the event.
Miss-i-sippin' is a culinary pairing which challenges the students in the Hospitality Management program at the University of Mississippi to create, prepare and host a tasting event that raises funds for their program. The event was created in partnership with the Yoknapatawpha Arts Council six years ago. "We have been very fortunate that this event has been successful on many levels" added Andrews, " Our founding sponsors Coors Beer, Clark Beverage Group, Polk's Meats, Sanderson Farms, and Delta Pride Catfish have supported us each year. The public is kind enough to purchase tickets and enjoy sampling the culinary pairings."