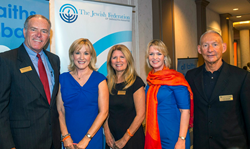 "We need to turn up the volume on child hunger," said Keith Monda, retired President and COO of Coach Inc. and All Faiths Board member. "I believe the community will make sure children are fed this summer and will meet the $500,000 challenge."
Sarasota, Florida (PRWEB) April 01, 2014
Local business owners, corporate sponsors, government officials and community leaders came together this morning to kick off the Campaign Against Summer Hunger. The first-of-its-kind, county-wide food and fund drive will change the lives of thousands of kids this summer by uniting the community for a common goal.
All Faiths Food Bank will lead the 40-day Campaign, from April 1 through May 10, 2014, to help feed the 21,000 Sarasota County students (50%) on free and reduced lunch. During the summer, when school is out, those kids - and their siblings and families - may go without regular meals.
All Faiths Food Bank, with support from Gulf Coast Community Foundation and The Jewish Federation of Sarasota Manatee, created a grand-scale, community-wide campaign to encourage Sarasota residents to "empty their shelves" and make a cash gift so no child in our community goes hungry this summer.
All Faiths Food Bank also issued today a $500,000 challenge match made possible by early supporters of this effort.
"We are excited and very pleased to have raised $500,000 in advance of the campaign," said Sandra Frank, CEO of All Faiths Food Bank. "We're now asking our community to meet this challenge by raising an additional $500,000."
"We need to turn up the volume on child hunger," said Keith Monda, retired President and COO of Coach Inc. and All Faiths Board member. "I believe the community will make sure children are fed this summer and will meet the $500,000 challenge."
All Faiths announced a number of strategies to feed children including partnering with the Sarasota schools to open 45 feeding sites this summer. The Food Bank will also provide a summer backpack program which has never been offered before. Plans also include opening six new mobile school pantry sites and routing Sprout, the mobile farm market, to new locations.
The HuB was enlisted to manage the official campaign site, SkipALunch.org, and help engage the online community. Businesses are invited to go online to sign up as community partners, where their generosity will be recognized on the site.
The Campaign wraps up on Saturday May 10 with the National Letter Carriers Food Drive, when residents fill a bag with nonperishable food and leave it at their mailbox for pick up. This year, All Faiths Food Bank hopes to double the amount of food collected, with a goal of collecting 600,000 pounds of food.
For more information, to donate, or learn about the many special events planned, visit http://www.SkipALunch.org. Nonperishable food donations may be dropped off at any Sarasota County Goodwill or Fire Station.
About All Faiths Food Bank
All Faiths Food Bank is a member of Feeding America and the hub of the hunger-relief system in DeSoto and Sarasota counties. Last year, All Faiths Food Bank distributed 7 million pounds of food equating to 5.8 million meals through 195 pantries, soup kitchens, churches, community centers, schools, and programs. Its mission is to feed those in need and educate the community about hunger and nutrition. For more information call 941-379-6333 or visit http://www.allfaithsfoodbank.org.