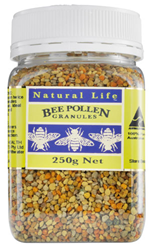 The interest in bee pollen gathered momentum online with bee pollen featured in articles from natural health bloggers worldwide, including big names like Dr Mercola and the team at Hungry for Change
(PRWEB) April 07, 2014
The surge in sales of Natural Life™ Bee Pollen over the last year is without doubt due to increased media and new consumer interest in natural health superfoods.
Director of Lifetime Health, Antony Adare said "the growing popularity of superfoods, raw foods and juicing has brought more mainstream awareness to products like Bee Pollen and broadened our market significantly."
In 2009, Bee Pollen, Propolis and Royal Jelly received a super-endorsement when they appeared in the top 10 Superfoods listed by health Guru David Wolfe in his book Superfoods – The Food and Medicines of the Future.
The interest in bee pollen gathered momentum online with bee pollen featured in articles from natural health bloggers worldwide, including big names like Dr Mercola, and the team at Hungry For Change.
Raw foodism and the associated blogs, media and social networking has also pushed Bee Pollen into the spotlight.
With the rising popularity of juicing, super-smoothies and raw health balls, Bee Pollen is now referenced in recipes all over the internet.
Much of this interest has been built through health blogs and online communities.
The positive impact on sales of Natural Life Australian-Made Bee Pollen was inevitable.
"We've sold our Australian Bee Pollen to the Middle East, Japan, Korea, Singapore and other parts of Asia for over 10 years, but the online superfood movement has helped us gain traction with Western consumers' said Mr Adare.
"It will be interesting to see if related products like Propolis and Royal Jelly follow suit," Mr Adare added.
Natural Life Australian-Made Bee Pollen is a premium quality pollen multi-flora blend with no additives or chemicals, sourced from pristine locations in Western Australia.
Natural Life Bee Pollen is currently on sale at lifetimehealth.com.