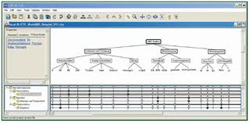 The integration of VectorCAST and CTE XL Professional implements the perfect combination of functional and structural testing.
Providence, RI (PRWEB) April 03, 2014
Vector Software, the world's leading provider of innovative software solutions for testing safety and mission critical embedded applications, announced today that the VectorCAST™ test solution now offers an integration with the Berner & Mattner CTE XL Professional Graphical Editor for Classification Trees. This tool synergy benefits developers by enabling them to easily develop automated functional, robustness, and state machine tests.
The bi-directional integration enables users to develop tests in CTE XL Professional based on the intuitive classification tree method, which imports tests into VectorCAST for execution and analysis, and then exports the results to CTE XL Professional for test evaluation against the classification tree. Test cases can be designed using various established testing methods, such as equivalence partitioning, boundary value analysis, combinatorial testing (e.g. pairwise/threewise combinations), or even statistical testing. In addition, test sequence generation is supported — for instance, using events that trigger various states in a state machine. Within the VectorCAST test environment, testers can use these tests to drive the testing of the application and to check for correctness using the expected result information passed from CTE XL Professional.
The CTE XL Professional solution provides automatic test case and test sequence generation, requirements tracing, test result evaluation, and product variant management. It is a powerful tool for specifying test cases, and can be used for both system and software development. Additionally, CTE allows the prioritization of test cases, and offers integrations with leading requirement management and quality assurance tools.
An in-depth video demonstrating the VectorCAST being used with CTE is available on our web site (https://www.vectorcast.com/resources/videos/how-vectorcast-integrates-cte-xl-professional). It uses an easy to understand state-machine implementation to allow you to easily see the benefits of the integration.
"The VectorCAST integration with the Berner & Mattner CTE XL tool offers our users a unique new way to visualize and control test case data," said John Paliotta, Chief Technology Officer at Vector Software. "Combining the graphical editor from CTE with the core functionality of VectorCAST allows developers to generate more test cases more quickly, resulting in faster time-to-market and improved product quality."
"The integration of VectorCAST and CTE XL Professional implements the perfect combination of functional and structural testing. A specification-based test is created using the classification-tree method. The coverage reached is measured using VectorCAST. If the coverage reached is not sufficient, the test suite could be improved by extending the functional test or by adding structural test cases," explains Dr. Joachim Wegener, Department Manager at Berner & Mattner.
About Vector Software, Inc.
Vector Software is the world's leading provider of software testing solutions for safety and business critical embedded applications. Companies worldwide in automotive, aerospace, medical devices, industrial controls, rail, and other business critical sectors rely on Vector Software's VectorCAST™. By automating and managing the complex tasks associated with unit, integration, and system-level testing, VectorCAST helps organizations accelerate development and ensure the reliability of their embedded software applications. Founded in 1989 by embedded software engineers, Vector Software is headquartered in East Greenwich, Rhode Island USA with offices worldwide and a world-class team of support and technology partners. To learn more, visit: http://www.vectorcast.com. Follow Vector Software on Facebook, Google+, LinkedIn, Twitter, and YouTube.