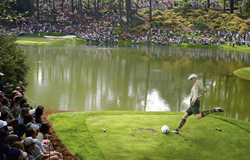 We will undoubtedly attract more families and new golfers to the resort, and that is exactly what the industry needs.
Traverse City, MI (PRWEB) April 08, 2014
Two golf courses in this Northern Michigan resort community are introducing "FootGolf" this season -- a hybrid between soccer and golf in which players try to sink their balls in 21-inch holes in as few "strokes" as possible.
The two courses – The Summit at Shanty Creek Resorts and Elmbrook in Traverse City – are adapting their links to the new game with full 18-hole FootGolf layouts.
"When we first heard about this, we thought it was something for kids – you know, birthday parties and things like that – but this is an international accredited sport," said Elmbrook owner Carolyn Olson. "And it's a perfect fit for Traverse City, with all the elite soccer clubs and coaches we have in this area."
The idea of blending golf and soccer has been around for decades, but it wasn't until the 1980s that Dutch enthusiasts created official rules and courses for the sport. It is now a recognized tournament sport in over 20 countries, and the American FootGolf League recognizes 85 participating U.S. courses in 29 states. Two of the four courses in Michigan are in Traverse City.
FootGolf is played with a regulation #5 soccer ball, and its basic rules are like those of golf: the first shot at each hole has to be taken from the tee, and players must play past the usual array of bunkers, trees, water hazards and hills.
Footgolfers are expected to abide by the rules of the hosting course, including dress code and appropriate shoes. A distinctive uniform is often worn (collared shirt, flat Hogan-style cap, golf pants or shorts, knee-length argyle socks and soccer shoes – not cleats.)
Adapting an existing golf course for FootGolf isn't as difficult as it might seem. FootGolf fairways run parallel to existing golf layouts (18 holes of FootGolf can be played in about the same time as nine holes of traditional golf) and the big 21-inch holes are typically placed in the rough or near undesirable hazards like sand traps, so it's rare for players of the two games to come into contact – or conflict – with each other.
American golf professionals are looking at FootGolf as one of several strategies for reinvigorating their sport and bringing new players to an increasingly moribund pastime – in much the way that snowboarding has helped revive flagging ski resorts. The PGA is encouraging its members to experiment with several initiatives designed to make golf more attractive to potential new players and bring more revenue to cash-strapped properties.
One such initiative is the so-called "Golf 2.0" campaign promoted by golfer Jack Nicklaus to bring more fun to the game -- particularly for women and youth -- and increase the number of new players. Last year Shanty Creek adopted several of the campaign's suggestions, adding 8-inch cups to all 18 greens at its Schuss Mountain course (in addition to the regulation 4 ¼-inch cups) as a way to make the game easier and more approachable for beginners and less experienced golfers. This season it is going a step further, adding forward tees and 15-inch cups to the Summit course. Families have the option when playing together to play to the standard cup or to the 15-inch cup.
The resort also allows children 17 and under to play for free on its Schuss Mountain and Summit courses, as long as they're with a paying adult. On Sundays after 2 pm, kids can even play free on the resort's top-tier courses, The Legend and Cedar River.
"By implementing these innovative and unprecedented programs with 15-inch cups and now FootGolf at Shanty Creek Resorts, we will undoubtedly attract more families and new golfers to the resort, and that is exactly what the industry needs," said Shanty Creek golf director Brian Kautz.
In addition, during July and August, Shanty's golf pros lead a two-hour weekly junior golf program every Thursday as well as a Junior Golf Camp. The weekly junior program costs $25 for resort guests and includes two hours of instruction and an hour of on-course experience. The Junior Golf Camp, which costs $195, includes four-hours of instruction and on-course experience.
The programs -- designed to teach young players the game while their parents are playing golf -- incorporate rules, etiquette and history. A junior tournament is also held at the end of August for those who participated in the programs, and enrollees enjoy unlimited access and use of the driving ranges at both Summit and Schuss.