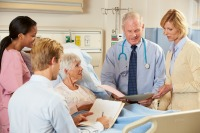 Fayetteville, GA (PRWEB) April 03, 2014
Synensis senior consultant Julie Herges Gapstur, RN, BSN, is a featured presenter at the Laerdal Regional Simulation User Network conference in San Diego, California.
These regional conferences bring together healthcare professionals interested in preventing harm to patients by improving the effectiveness of simulation training across disciplines.
Gapstur will provide an overview of TeamSTEPPS®, an evidence-based framework that optimizes teamwork though leadership, situation monitoring, mutual support and communication. TeamSTEPPS has a 25-year track record of reducing clinical errors and malpractice claims while improving patient and process outcomes and patient and staff satisfaction.
"The power of TeamSTEPPS is enhanced by the addition of the StoryCare® system from Synensis," according to Gapstur. StoryCare uses teaching stories as simulations that empower teams to produce measurable improvements.
She will also highlight how teams can use debriefing as a tool for continuous improvement.
Gapstur is a registered nurse and former U.S. Air Force Colonel with more than 30 years of healthcare experience. Her co-presenters Kelly G. McKeever and Nancy Lachapelle are from Laerdal.
This is the second Synensis speaker who has presented at a recent Laerdal conference. Richard Stone, Chief Innovation Officer, spoke in Orlando earlier this year. He shared an overview of a partnership between Synensis and the North Carolina Virginia Hospital Engagement Network to design, develop and deliver customized teamwork simulation training for 36 hospitals. He also described the use of StoryCare as a low-fidelity simulation tool.
Stone said Synensis has an ongoing commitment to support Laerdal's educational outreach.
"There is a powerful alignment between our missions: saving lives. We appreciate the opportunity Laerdal provides to Synensis to put our tools and methodologies into the hands of healthcare professionals committed to rapid cycle improvement and greater patient safety."
About Synensis:
Synensis was formed to create healthier organizations, improve the quality of healthcare around the world and help save thousands of lives each year. We provide the tools, knowledge, coaching and training to make every member of the healthcare team more effective. Together we transform healthcare systems to become safer places for patients and more satisfying workplaces for those who care for them.
About Laerdal:
Laerdal Medical, one of the world's leading providers of healthcare solutions, is dedicated to helping save lives. Laerdal serves healthcare providers and educators with products and services for basic life support, advanced life support, simulation, airway management, immobilization, patient care, self-directed learning and medical education.
Media Contact:
Richard Stone, MS, Chief Innovation Officer
Phone (678) 369-6317
Email: rstone(at)synensishealth(dot)com
Web: http://www.synensis.com
Twitter: @SynensisHealth