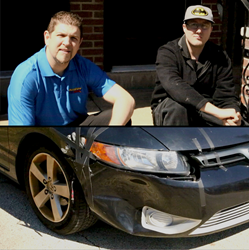 We were in constant training for an attack from North Korea... I don't make a lot of money, so this award is really going to help me out. -- Edward Ehnow, US Army Veteran
Trevose, PA (PRWEB) April 03, 2014
Edward Ehnow, a 24-year-old U.S. Army veteran who patrolled the armed border between North and South Korea, has been selected as the latest winner of CollisionMax's Metal of Honor Award. As a result, CollisionMax Fleet Services of Northeast Philadelphia, PA, will repair his 2007 Honda Civic coupe free of charge.
Mr. Ehnow, who lives in Elkins Park, PA, served 12 months in battle readiness exercises along the hostile border with North Korea in 2009 and 2010. He served another two years on active duty at Fort Drummond, NY, and another year there in the Army National Guard before returning to civilian life in 2012.
"Patrolling the border was stressful, because you had to stay awake for 24 hours at a time," he said. "We were in constant training for an attack that could happen at any moment. We were in teams of four camping in the mountains, and in the winter the winds went right through you. At times, we were just 200 yards from the North Koreans' 20-foot high barbed wire fences and guard towers, and we could see right into their eyes."
Mr. Ehnow, who was born and raised in Wisconsin, lost his mother to leukemia when he was one year old, and his father to a heart attack when he was four. Raised by relatives and then foster parents, he said he was inspired to enlist in the Army by memories of his father.
"My father was in the Army for 10 years and retired as a drill sergeant before I was born," Mr. Ehnow said. "I grew up poor, and when I graduated from high school I decided to join the Army as a way to pay my way through college."
After being honorably discharged with the rank of E-4, Mr. Ehnow moved to Elkins Park to be near the girlfriend he met on online (they're now engaged). He also enrolled in DeVry College, where he expects to earn his associate's degree in computer network administration this year. He currently works part-time as a security guard.
"My car was hit on the bumper in an accident at a nearby intersection six months ago," he said. "The police said it was nobody's fault and I don't have collision insurance, so I was going to have to pay for the repairs myself." He said that in addition to needing a new bumper, the car's unibody was damaged, and he was told it would cost thousands of dollars to fix. "I don't make a lot of money, so this award is really going to help me out."
Through its Metal of Honor Project, CollisionMax has now given away auto body repairs to 11 US military veterans, one per month for each of its locations in the Delaware Valley. The company chose the winners from nominations it received from the public on the project's web site, http://www.metalofhonorproject.com.
"The Metal of Honor Project is our way of saying thank you and honoring the men and women of our armed forces who put their lives on the line for all of us," said Jim Tornetta, CollisionMax president and CEO.
In New Jersey, CollisionMax operates shops in Blackwood, Cinnaminson, Glassboro, Marlton, Pennsauken, Sicklerville and Westmont. In Pennsylvania, it has repair centers in Oxford Valley, Warminster and two in Northeast Philadelphia (both on West Grant Avenue). For information about CollisionMax, please visit http://www.collisionmax.com.