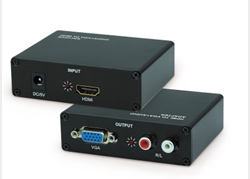 (PRWEB) April 03, 2014
Recently, Hiconn Electronics, a professional electronics accessory supplier, has announced big savings (up to 25 off), on all its newly revealed HDMI to VGA+R/L Audio Converters. In the near future, more affordable electronics accessories will be unveiled.
According to the marketing specialist of the company, the useful converters offered by Hiconn Electronics are very popular in the market. The company is devoted to manufacturing practical accessories for clients from home and abroad; it is famous in the global market for its HDMI to VGA+R/L Audio Converters. With a vast knowledge of customer needs and product craftsmanship, it has won a lot of great appreciation from old and new clients.
Here is some detailed information about the company's new versions of HDMI to VGA+R/L Audio Converters:
--Easy to use, installs in seconds, no settings and it is a resolution pass-through converter
--Purely for conversion between video formats but not convert the input/output video resolutions
--Audio output format: 2 channel LPCM
--Compliant with HDMI 1.3
--Support HDCP 1.2
--Supports 165MHZ/1.65Gbps per channel (6.75Gbps all channel) bandwidth for HDMI Input
--VGA resolutions:640 x 480@60Hz, 720 x576@50Hz,1280x720@50/60Hz, 1920 x1080@50/60Hz,800x600@60Hz, 1024 x768@60Hz.
At Hiconn Electronics' online shop, worldwide clients can find many amazing items and enjoy a unique shopping experience. The company believes that it can satisfy those who never compromise on quality and price. The current special offer will save hundreds of dollars for all consumers.
About Hiconn Electronics
Hiconn Electronics (Shenzhen Hiconn Electronics Co. Ltd.) is devoted to designing and manufacturing a wide range of connection cables and customized cable assemblies, offering many HDMI cables, VGA cables, SATA cables, USB cables, 1394 cables, DVI cables, SCSI (Small Computer System Interface) and more. For more information, please visit http://www.hiconn.net/.
Contact Person: James Yin (Sales Director)
Company Name: Shenzhen Hiconn Electronics Co., Ltd.
Address: Shenghua Building., Xixiang Road., Baoan District, Shenzhen, Guangdong Province, China
Zip Code: 518102
Tel: +86-755-8109 8345
Fax:+86-755-2779 3497