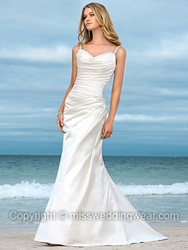 (PRWEB) April 03, 2014
Recently, Missweddingwear.com, a top brand of wedding dresses and other special-occasion dresses, has announced its special offer on beach wedding dresses. The company knows that worldwide ladies want to buy affordable trendy outfits; it is working hard to improve customers' shopping experience on its website. This romantic beach wedding dress collection presents the latest hot trends for spring 2014. Additionally, high quality bridesmaid gowns and evening outfits are on sale.
"To show the company's gratitude to all clients from home and abroad, we are providing huge price cuts on other items, including fancy prom gowns, homecoming skirts, formal gowns, and cocktail dresses." The senior spokesman for the company is happy to talk about the promotion. "The mission of Missweddingwear.com is to provide all kinds of graceful dresses to flatter varied body shapes. Clients who are interested in our discounted outfits should visit our website as soon as possible. The new selection comes with creative and luxury styles. And Missweddingwear.com is now providing big discounts, up to 80% off."
About Missweddingwear.com
Missweddingwear.com is a reliable wedding dress manufacturer and retailer. For those who are looking for a distinctive dress at an affordable price, the website is a one stop platform. Also, the company offers hundreds of pretty accessories for ladies around the world. Missweddingwear.com differentiates itself through quality, trendy designs, and innovation across their entire suite of products and services in the market.
See more at http://www.missweddingwear.com/beach-wedding-dresses-c-9/.