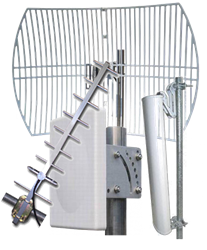 (PRWEB) April 03, 2014
Today, Excel-Wireless, a reliable company for cell phone boosters and UHF antennas, announces its April Sale. It is offering big discounts on its UHF antennas, and the promotion is valid until April 30, 2014.
UHF (ultra-high frequency) is known as the dulcimer band or decimeter wave as the wavelengths range from one to ten decimeters. It designates the ITU radio frequency range of electromagnetic waves between 300 MHz and 3 GHz (3,000 MHz). The UHF antennas from Excel-Wireless are made of high quality materials and dedicated craftsmanship. They are ideal for television broadcasting (digital and analogue), cordless phones, walkie-talkies, satellite communication, and numerous other applications.
Excel-Wireless.com is a fast growing company with a focus on wireless communication systems. The business has gained much experience in the co-operation of material suppliers, users, operators and industry experts, and it strives to enhance the communication effect in the desired places for its customers worldwide.
"We are offering great discounts on our UHF antennas, and we hope to expand our global market, especially the online market share," says, the CEO of the company. "We have a wide range of wireless antennas for our customers worldwide. From 400 MHz UHF antennas to 4G LTE antennas, you will find your desired products on our website. It is worth mentioning that our cell phone boosters are also on sale now."
About Excel-Wireless.com
Excel-Wireless.com is a well-known supplier of cellular amplification and wireless communication systems with a focus on cell phone boosters. The business has many years of experience in the industry with a trackable record that it has cooperated with many companies, universities, military and government agencies and communities in all sizes around the world. For more details of the company and its products, please visit: http://www.excel-wireless.com/.