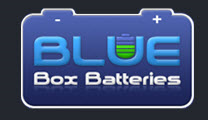 "Blue Box Batteries constantly aim to meet customer demand and because of this we will continue to add new products in the future to ensure we offer the best choice possible in the market."
(PRWEB UK) 4 April 2014
Blue Box Batteries has recently added new mobility scooter batteries to their existing product range to give customers greater choice when viewing their website.
The new items include Yuasa models (YPC55-12 and YPC75-12) alongside the company's extensive range of renowned Fiamm and Pro-Lite designs.
The products cater for the larger end of the scooter market and are currently on special offer for a limited time to welcome the new site additions.
The move, which coincides with a recent and brand new site launch, is another positive step forward in the right direction for the company who are looking to strengthen their brand during 2014.
In partnership with Yuasa, Blue Box Batteries also stock the NP sealed lead batteries range as an approved regional distributor.
Those in the market for a new mobility scooter battery can visit the company's easy-to-navigate website and also browse their comprehensive range of products for other uses too. From lawnmower, to jump pack styles, through to small sealed lead acid designs and mobility scooter batteries, there's plenty available for customers to view.
Martin Barron, Director at Blue Box Batteries, commented on the new products in stock:
"In response to requests from our client base, we have further expanded our mobility scooter catalogue with the addition of two new batteries in the 50-55Ah and 70-75Ah range. These designs are reliable and cost-effective with the added reassurance that you are buying into a top-quality brand to help power your vehicle."
"Blue Box Batteries constantly aim to meet customer demand and because of this we will continue to add new products in the future to ensure we offer the best choice possible in the market."
To find out more about the new mobility scooter product range, please visit: http://www.blueboxbatteries.co.uk/batteries/mobility-scooter-batteries.
Don't forget to check out the recently updated Blue Box Batteries website too by visiting: http://www.blueboxbatteries.co.uk/.
###Ends###
About Blue Box Batteries
Blue Box Batteries is a specialist provider of battery power solutions, designed for a wide range of commercial/domestic applications. With a broad supply of products and an expert support team, the company have positioned themselves as a trusted distributor in the British battery market. The company's head office is located in Hammerley Enterprise Park, Burnetts Lane, Eastleigh.