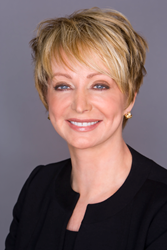 Sacramento, CA (PRWEB) April 03, 2014
Diane D. Miller, President and CEO of Wilcox Miller & Nelson, the Sacramento Office of Career Partners International, will speak for the National Association of Corporate Directors (NACD) in Houston, TX, April 3-4, 2014. Ms. Miller will be speaking about the Board as a Strategic Asset at NACD's Director Professionalism Course.
Ms. Miller serves on the boards of University of Pacific, California Chamber of Commerce, and the Northern California Chapter Board of the National Association of Corporate Directors (NACD) and the Host committee.
The Director Professional Course will present insights and commentary from experienced board directors and industry thought leaders regarding the tools, knowledge and networking needed to make a powerful difference in the boardroom. Topics will include fiduciary responsibilities, key committees, current legal trends and thinking on Capitol Hill, strategy, risk, board/C-Suite relationships and much more.
NACD's mission is to advance exemplary board leadership. Their focus is on meeting the needs of board members and supporting directors to perform more effectively and efficiently. The Director Professionalism Course is the foundation course for the NACD Governance Fellowship.
About Wilcox Miller & Nelson
Wilcox Miller & Nelson, a Career Partners International firm, is a leading West Coast retained executive and board search, governance consulting, leadership development, executive coaching and career transition firm, founded in 1979. Wilcox Miller & Nelson has been a co-owner in Career Partners International since 1998.
About Career Partners International
Established in 1987, Career Partners International is one of the world's largest and most successful global providers of talent management solutions. Organizations of all sizes and industries turn to Career Partners International to successfully assess, engage, develop and transition talent using the expertise of over 1600 highly experienced professionals in the areas of assessment, executive coaching, leader development and outplacement. With more than 220 offices in over 45 countries around the world, Career Partners International assures that its clients have local experts with global reach in talent development, career management, executive coaching, outplacement and career transition services. Additional information can be found by visiting http://www.cpiworld.com.