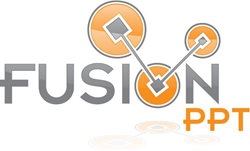 As an APN partner, Fusion PPT will be able to better advise its clients on using AWS as a part of their mission-critical cloud computing solutions.
Vienna, VA (PRWEB) April 15, 2014
Fusion PPT, a recognized strategy and technology consulting firm, announced today that the company is now a Standard tier Consulting Partner with the Amazon Web Services (AWS) Partner Network (APN). Fusion PPT joins an extensive community of industry leaders and experts from around the U.S., a partnership that will enable Fusion PPT to stay up to date with the latest technology changes and collaborate to deliver the highest quality, best-fit solutions to the firm's clients.
Cloud computing is rapidly becoming yet another revolutionary step in the progression of technology in the U.S. and globally. With the introduction of "the cloud" came data that is accessible from practically anywhere. However, as the commercial and government cloud computing markets skyrocket, so do hot-button issues such as cyber security, data privacy, and interoperability, to name a few. As an AWS Consulting Partner, Fusion PPT will be able to further leverage the firm's growing team of AWS certified consultants along with the experience, architecture, knowledge, and lessons learned gained through its partnership with the most mature cloud computing provider in the industry to help the firm's clients find the solutions that are the best value.
APN Consulting Partners are professional services firms that help a variety of customers to design, develop, migrate, and/or build applications on AWS. As an APN partner, Fusion PPT will be able to better advise its clients on using AWS as a part of their mission-critical cloud computing solutions. "Everyone at Fusion PPT is deeply committed to facilitating the advancement of cloud computing in the market; cloud computing is what we do. I am proud that Fusion PPT's experience and commitment to cloud computing means that we now have the opportunity to really contribute to the future of cloud computing through helping our clients," remarks Joyce Soares, Vice President of Consulting Services.
CTO Don Magrogan remarks, "In order to help our clients solve complex technology challenges, it is important to stay at the forefront of technology, the market, and leverage the experience of other organizations that have already solved similar problems. Our partnership with Amazon will help us accomplish this – not only staying up-to-date with technological and cloud advances, but to be a part of one of the forces forging the path of the future in the cloud." Fusion PPT also has a number of AWS certified architects who use their knowledge and experience with AWS technologies to assist the firm's clients in addressing their most critical IT concerns.
Soares cited this partnership as being strategic to the company's overall business goals and a significant value-add to Fusion PPT's network of partners. "We are extremely pleased to be given an opportunity to work with AWS to provide high-quality cloud services to our clients." Fusion PPT is a recognized leader in cloud computing solutions and currently provides services to agencies such as NASA, DISA, HHS, and the Intelligence Community, as well as leading cloud service providers. As an ISO (International Organization for Standardization) 9001:2008 certified organization, Fusion PPT's expertise and unbiased guidance helps organizations to address their critical IT concerns using emerging technologies such as cloud computing as catalysts.
To learn more about Fusion PPT, please click here.