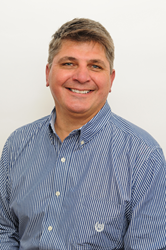 "We expect Paul to make an immediate impact on how both our channel partners and consumers perceive Fiberon's products and brand."
New London, N.C. (PRWEB) April 09, 2014
Fiberon®, a leading manufacturer of wood-alternative decking, railing and fencing products, has hired Paul J. Recko, Jr. as its director of product marketing. In this role, Paul with be responsible for product development at Fiberon, making sure new lines meet the evolving needs of homeowners, at price points that appeal to varied tiers of consumers.
At Fiberon, Paul will have the opportunity to develop products that maximize the durability, ease of use and maintenance, and pricing with the exceptional aesthetics of company's products. Through in-depth research and advanced analytics, Paul will direct the development of Fiberon products that uniquely meet consumer demands.
Paul served as a senior manager at composite deck manufacturer Trex, with direct responsibility for very successful and high profile product marketing programs in the railing, trim and fencing categories. Paul was also responsible for the development of the Trex international business.
In addition to being a veteran of the wood-alternative manufacturing industry, Paul rounded out his experience with senior-level positions at rental equipment and industrial equipment manufacturing companies. Paul held several management and director positions within Rubbermaid Commercial Products a division of Newell Rubbermaid, helping lead the company's largest and most profitable business segment. At Rubbermaid, he developed and executed international, award-winning new products and successful global marketing strategies.
"Paul has the track record, acumen and the innate ability to assess markets that will enable him to lead Fiberon's product development efforts in directions that make us even more appealing and more competitive," said Shellie Sellards, vice president of marketing for Fiberon. "We expect Paul to make an immediate impact on how both our channel partners and consumers perceive Fiberon's products and brand."
Fiberon composite decking and railing products are sold to professional contractors through a national and international network of distributors and retail outlets. To learn more, visit http://www.fiberondecking.com or call 800-573-8841.
About Fiberon
Fiberon is a leading manufacturer of wood-alternative decking, railing and fencing products available around the globe. Through cutting-edge, American-based manufacturing, Fiberon has created new benchmarks for innovation in outdoor living products. The company is a leader in sustainable practices, with innovative manufacturing processes that capture 98.5% of waste materials, and divert 50,000 tons of wood and plastic from landfills each year. Fiberon, a proud sponsor of NADRA (North American Deck and Railing Association), is privately owned with operations in North Carolina and Idaho. For more information, visit http://www.fiberondecking.com and follow Fiberon on Facebook, Pinterest, Twitter and YouTube.
# # #