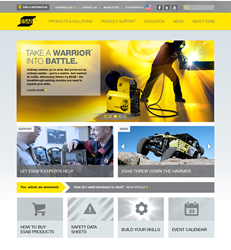 Florence, SC (PRWEB) April 04, 2014
ESAB Welding & Cutting Products announces the launch of its newly redesigned website for North America. A fresh design and improved navigation offers visitors to http://www.esabna.com a better user experience.
The new site has a cleaner, contemporary look and uncluttered layout. A completely revamped home page welcomes visitors with bold, impactful visuals. Improved, drop-down navigation menus and better functionality throughout make it easier for users to locate content in fewer clicks. An enhanced Product Support tab provides one-click navigation to frequently requested information, including Material Safety Data Sheets (MSDS), Warranty Forms, Product Certifications, and User Manuals.
The site also features more comprehensive product information on ESAB's complete range of welding and cutting products and solutions for a range of industries, as well as modifications to previously existing pages for more intuitive use.
The http://www.esabna.com website has been redesigned using the latest technology, making it compatible with today's browsers and mobile devices.
ESAB Welding & Cutting Products is a recognized leader in the welding and cutting industry. From time-honored processes in welding and cutting to revolutionary technologies in mechanized cutting and automation, ESAB's welding consumables, equipment, and accessories bring solutions to customers around the globe. For more information, visit http://www.esabna.com or call 1-800-ESAB123.