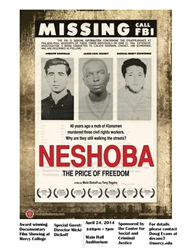 Dobbs Ferry, N.Y. (PRWEB) April 06, 2014
Famed Director Micki Dickoff, who directed the award winning film "Neshoba: The Price of Freedom," will be speaking at Mercy College's Dobbs Ferry, N.Y. campus.
April 24, 2014
Film Screening – 3:30 p.m.
Lecture by Micki Dickoff - 5 p.m.
Lecture Hall -Main Hall.
Dobbs Ferry, N.Y.
The film, "Neshoba: The Price of Freedom," details the search for justice in the death of three civil rights workers who were murdered in Mississippi nearly 50 years ago.
The event is being sponsored by Mercy College's Center for Social and Criminal Justice. Center Director Doug Evans said: "It has only been 50 years since the peak of the Civil Rights movement but even after the election of an African American president, the ideals behind the movement and the costs of the social and legal changes it produced are still fresh in our collective consciousness. Micki Dickoff's documentary film has won numerous accolades from film festivals around the world, including the Boston Film Festival, Texas Black Film Festival, and New York International Independent Film and Video Festival. Mercy is proud to welcome Ms. Dickoff to present her film and answer questions following the screening."
The event is open to the college community.
Mercy College
Founded in 1950, Mercy College is a private, not-for-profit higher education institution that offers more than 90 undergraduate and graduate degree and certificate programs within five prestigious schools: Business, Education, Health and Natural Sciences, Liberal Arts and Social and Behavioral Sciences. Mercy College offers an engaging and personalized learning experience that includes the College's revolutionary Personalized Achievement Contract (PACT) program. The Mercy College PACT is the first program of its kind and now serves as a nationally recognized model for mentoring. http://www.mercy.edu/ 877-MERCY-GO
###