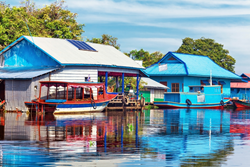 ...ballooning over Rajasthan, or cruising along the Mekong to majestic Angkor, there's more than one way to see the world's most diverse continent.
Glendale, CA (PRWEB) April 10, 2014
Travelers can enjoy a new perspective on Asia with two new experiences from Goway Travel. Whether air ballooning over Rajasthan, or cruising along the Mekong to majestic Angkor, there's more than one way to see the world's most diverse continent.
One of India's most compelling regions, Rajasthan is a desert state known for intricately decorated forts and temples. Many people's first taste of the area will be Jaipur, known as the Pink City thanks to its red and pink sandstone architecture. Both the capital and symbolic heart of Rajasthan, Jaipur is a much loved corner of India's classic Golden Triangle route.
Even without time to see more of Rajasthan, visitors can get a taste of it from above on a hot air balloon safari. Goway's 8-day Private Golden Triangle is one of its most popular India tours, particularly for first-timers. Right now, travelers who book it will receive a free hot air balloon safari, putting the perfect cap on an unforgettable journey. This exclusive offer is limited to the first five travelers who book.
Every passenger on the Private Golden Triangle will enjoy 7 nights accommodation, game drives in Ranthambore (home to tigers, leopards, hyenas and many more) and private sightseeing. Naturally, the trip includes the Taj Mahal, which some might call Asia's most impressive sight. But another splendid icon lays serious claim to the title.
The ruins of Angkor Wat attract around two million visitors a year and with good reason. This was once the center of an empire that spanned Southeast Asia, including Cambodia, Laos, and much of modern Thailand. It's impossible to walk through the stone gates of Angkor Thom, or approach fabled Angkor Wat without feeling the weight of that legacy. Typical itineraries might take travelers overland from Ho Chi Minh City or Bangkok. Goway however is offering a special glimpse of life along the Mekong River.
Over 7 nights aboard the Mekong Pandaw, passengers will enjoy a private ensuite cabin with all meals, drinks and shore excursions included. They'll explore the Mekong and Tonle Sap, the great lake at Cambodia's center. The cruise includes lesser known stops such as Kampong Cham and Cai Be, allowing passengers to enjoy many sights not typically seen by visitors to Cambodia. A day in Phnom Penh is also included, with the option of a somber, but deeply moving visit to the Killing Fields or the former 'S21' detention center.
This immersive 14 day journey can be taken in either direction between Ho Chi Minh City and Siem Reap (gateway to the Angkor temples). It includes two nights in both cities, allowing passengers to experience both the grandeur of ancient Indochina, and the energy of one of its bustling modern hubs. Prices start at US$3799 (ex Los Angeles) or CA$4159 (ex. Vancouver) including round-trip airfare with Korean Air.
Since 1970, Goway has been providing unforgettable travel experiences to Africa, Asia, Australia and New Zealand, idyllic island destinations and Latin America. Today Goway is recognized as one of North America's leading travel companies for individuals, families and groups to select exotic destinations around the globe. Goway has offices in Los Angeles, Vancouver, Toronto, and Sydney (Australia).
For reservations and information, visit http://www.goway.com, or call your Travel Professional on 1-800-387-8850.