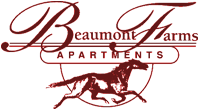 "Here at Beaumont Farms, we've got (1) a community of friendly people (2) in a great location that's very convenient to Keeneland. Add a pre-race tailgate party and you've got a winning trifecta for early April."
Lexington, KY (PRWEB) April 08, 2014
"And they're off!" Live horse racing resumed this week at Lexington's beautiful Keeneland Race Course, and Andover Management Group plans to celebrate it with their own take on the trifecta.
Michael Orsinelli, Property Manager of Beaumont Farms Apartments in south Lexington, said, "Here at Beaumont Farms, we've got (1) a community of friendly people (2) in a great location that's very convenient to Keeneland. Add a pre-race tailgate party and you've got a winning trifecta for early April."
As one of its seasonal resident appreciation events, the Andover Group is inviting Beaumont Farms residents and their friends to a brunch on Saturday, April 12, from 9:30 to 11:00 a.m. in the Beaumont Farms Clubhouse. Post time is 12:35, with the Toyota Blue Grass Stakes race at 5:45, and Orsinelli hopes to bring a large contingent of Beaumont Farms residents with him to Keeneland to enjoy thoroughbred racing at its finest.
"We've always said it takes more than buildings and people to make a community. We host social events to help our residents form bonds of friendship that, in many cases, will last for years. In addition to being fun, it's helpful to us as property managers as well, because it keeps the lines of communication open," Orsinelli said.
In addition to Beaumont Farms Apartments, other Lexington properties managed by Andover are the Lakewood Park Luxury Apartments, The Lafayette Academy, Property 358, and Crescent at Shadeland.