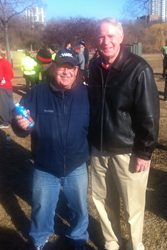 "For years, we have helped fund and support Engineers without Borders. Their work has helped thousands gain access to clean, safe, sustainable water, said CW4K Founder, Greg Stromberg.
Sussex, Wisconsin (PRWEB) April 07, 2014
CW4K was among the supporters who participated in the 2014 United Nations World Water Day, "5k Run4Water". A collaboration between Engineers Without Borders at UW-Milwaukee, the UW- Milwaukee School of Freshwater Science and School of Continuing Education, the event took place on Saturday, April 5 on Milwaukee's Lakefront.
The gathering celebrated United Nations World Water Day and raised funds for Engineers Without Borders at the University of Wisconsin, Milwaukee (UWM) and their water projects in Guatemala.
The 5K distance was selected because it symbolized distances many across the globe have to travel in order to access clean water.
Milwaukee's Mayor, Tom Barrett kicked off the early morning festivities with a brief welcome and inspirational sendoff for the runners. The weather was sunny but cool. Several hundred participants attended the event.
"For years, we have helped fund and support Engineers without Borders. Their work has helped thousands gain access to clean, safe, sustainable water, said CW4K Founder, Greg Stromberg. Clean water is critical to survival as it allows for successful agriculture, food and energy production". "Most importantly, it cuts down on waterborne diseases and allows the children healthy development and a better chance at survival. It makes us feel good knowing that we're making a difference in people's lives."
CannedWater4Kids is a 501c3 charity based in Sussex, WI. The organization's mission is to bring clean, safe water to the children of the world who are currently without. CW4K funds it's initiatives with cash donations and sales of their premium spring water product. Of every dollar collected, 95 cents goes to fund and deliver clean water programs. Efforts include sending water to Japan to aid in their post-earthquake water shortage, assisting the University of Wisconsin – Milwaukee's Engineers Without Borders in bringing water purification solutions to the highlands of Guatemala, supporting of a well/water tank project in Zambia, Africa, and the Bio Sand Filters project in Tanzania. A recent water project in Africa, provides a village of over 400,000 people first-time ongoing access to clean, safe water. To learn more, visit cannedwater4kids.org.
###