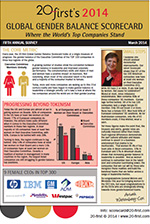 How can it be, in 2014, that 89% of senior executives of top companies around the world are still men? Is this really the 21st Century?
(PRWEB) April 09, 2014
Significant regional differences in the management makeup of top companies around the world is revealed in the latest report from 20-first, the leading international consultancy on gender balance.
20-first has released its annual Gender Balance Scorecard of the TOP 100 companies in three key regions of the globe. This report moves beyond the current focus on corporate boards to the more relevant metric of the gender balance of Executive Committees.
By focusing on the top management of a company – people who have worked their way to the top and have executive responsibility for its results – the report offers a clear picture of the attitudes and environments that companies have built – or haven't – to gender balance their leadership teams. The report analyses the top teams of the leading 100 companies in 3 regions of the world – the USA, Europe and Asia.
US LEADS
The US leads the way with 60% of companies having at least two women on their Executive Committees. Eight companies, including IBM, Pepsico, Lockheed Martin and General Motors, have a woman Chief Executive. But closer inspection shows there's a long way to go. Of the 1,164 Executive Committee members of America's Top 100 companies, only 199 (17%) are women and 965 (83%) are men. Two thirds of these women are in staff or support positions (129 or 65%) such as HR, Communications or Legal. Only 70 (35%) are in line or operational roles. And there has been no significant change in these percentages over the last three years.
EUROPE STILL FOCUSED JUST ON BOARDS
Meanwhile, Europe's companies, while progressing on Board balance in some countries because of quotas (or the threat of them), are still struggling to balance their top Executive teams. Only 29% of European companies have at least two women on their Executive Committees, although this does represent an increase from 20 in 2011. None have a female CEO. Of the 1,025 Executive Committee members of Europe's Top 100 companies, 110 (10%) are women, while 915 (90%) are men. Most of these women (64, or 58%) are in staff or support roles. A higher percentage than in the US are in line or operational roles (46 women or 42% of total).
ASIA NOT INTERESTED?
Only 11% of Asian-based companies have at least two women on their Executive Committee. Compared to the 1,057 men (96% of total) on Executive Committees in Asia, there are only 42 women (4% of total), two thirds of them (27) in staff roles and a mere 15 in line or operational roles.
Commenting on the research, Avivah Wittenberg-Cox, CEO of 20-first, said: "You really have to search hard in the executive ranks of the world's top companies for signs of progress in the gender-balance journey. Nine well-known companies are now run by women, but this is out of 300. European companies are showing signs of taking the issue seriously, but from a low base. The differences across the regions clearly show that corporate attitudes to gender balancing are affected by national and corporate culture. Leadership is key in improving the balance at the top. It is likely to change as more CEOs understand the benefits that balance brings to their businesses, their customers and their stakeholders."
The survey tracks companies along six phases of the gender journey:
1. Asleep - Some companies haven't even started the journey; we put them in our 'Asleep' category. These companies are still, in 2014, pictures of imbalance. They are run by an exclusively male team.
2. Token - Less than 15% of both genders on the Executive Team. In this category, the individual(s) is in a staff or support function rather than a line or operational role.
3. Starting Smart - Next are the 'Starting Smart' companies. They also have less than 15% of both genders in the mix, but they are in a central core or operational role, sometime even CEO.
4. Progressing – Reached a minimum of between 15% and 24% of both genders on their top team.
5. Critical Mass - These are companies that have achieved a balance of at least 25% of both genders, but less than 40%.
6. Balanced - The rare companies that have achieved gender balance, with a minimum 40% of both genders on the Executive Team. This is where balance at the top begins to reflect the reality of 21st century customers, leadership and talent and gives companies the competitive edge to innovate and deliver value sustainably and globally.
THE REPORT
The full report is available at: http://20-first.com/research/ and clicking on Global Gender Balance Scorecard 2014.
ABOUT 20-FIRST
20-first works with organizations that seek to move from 20th century mindsets, management styles and marketing approaches to more progressive 21st century forms - while staying first at the game. It advises and helps global companies interested in responding to 100% of the market and optimizing 100% of the talent pool.
ABOUT AVIVAH WITTENBERG-COX
Avivah Wittenberg-Cox is CEO of 20-first. Based in London, she is a consultant, coach and author. Her books include: Seven Steps to Leading Gender Balanced Businesses (HBR Press, 2014), HOW Women Mean Business (Wiley 2010) and WHY Women Mean Business (Wiley, 2009). She helps companies develop more inclusive leadership styles, build more gender-balanced management teams and review processes and policies to adapt them to 21st century talent and market realities.