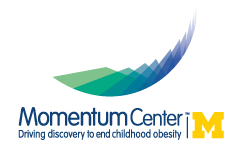 Working with the creative staff at Hile has been productive, rewarding, and a whole lot of fun.
Ann Arbor, MI (PRWEB) April 08, 2014
After developing their name, tagline, and visual identity, Hile Creative has designed and launched a new website for the University of Michigan's Momentum Center — a cross-disciplinary initiative that aims to develop creative approaches and ambitious solutions to end childhood obesity.
The new website is fully responsive, meaning it automatically adjusts to phone, tablet, laptop, and desktop screen widths.
"If you're building a website, responsive design is the new standard," said Dave Hile, President of Hile Creative. "More and more people are viewing sites on mobile devices, and it's important to cater to them. We're so excited about Momentum's new site — it's a true reflection of their brand and their forward-thinking approach."
Tania Piotrowski, Momentum's Executive Director, said the website has been well received by colleagues. "Working with the creative staff at Hile has been productive, rewarding, and a whole lot of fun," she added. "They really catalyzed our thinking about the purpose and potential for our website, and were responsive to our wishes and concerns all along the way. We are so pleased with the end product and know that it will serve us well."
Hile Creative is an Ann Arbor brand development and creative design firm that has served businesses of all sizes for three decades. To learn more about Hile's full range of integrated services, including web design and development, branding, and advertising, visit http://www.hilecreative.com.
Initiated by the University of Michigan School of Public Health, the Momentum Center aims to reduce, prevent, and ultimately end childhood obesity. Recognizing that many factors contribute to obesity trends, the center unites experts from varied disciplines to develop original, effective solutions. To learn more, visit http://www.momentumcenter.org.