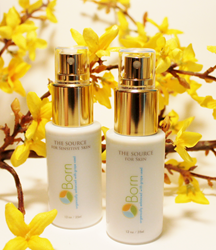 We want to encourage customers to shop for environmentally friendly products.
(PRWEB) April 08, 2014
In recognition of Earth Day coming up on April 22nd, leading all-natural and organic beauty brand, Born Skincare, is celebrating with complimentary shipping on all orders placed through the month of April.
"We want to encourage customers to shop for environmentally friendly products," says Born Skincare creator Gloria Barghi. "At Born Skincare, we take a healthful and holistic approach when it comes to the development of our products."
The core of The Source line is derived from its star ingredient, grape seed oil. All oils in the The Source Collection are extracted without using any chemicals, either by a cold-press or steam distillation method. Combined with other rare and natural oils, The Source Collection is ideal for individuals looking for the perfect nightly oil to hydrate their skin and give it a natural glow or if they suffer from acne and oily skin and need the right balancer. Using all natural ingredients, The Source Collection provides an anti-aging solution for all skin types, including those with sensitive skin.
Customers can shop the all-natural skincare line online at http://www.bornskincare.com/our-products/list.html. Born Skincare products promise ToxicFree and organic formulas and results that leave skin feeling smooth, hydrated and youthful.
About Born Skincare:
Born Skincare is a family-driven business that has a deep conviction in what we do, which makes us proud to put our name on every Born Skincare product. As a family, we believe that being healthy is paramount, and that starts with consuming the right foods and nourishing the skin. We have devoted years of research towards maximizing the health and beauty benefits the grape provides. The results of our tireless commitment are in every bottle of Born products we produce. For more information, visit bornskincare.com, Twitter @BornSkincare, Facebook, Pinterest at pinterest.com/BornSkincare/ and Instagram @BornSkincare.