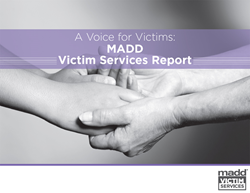 We want people to know that we're here for victims and their friends and families throughout their healing journey—whether that's the day of the crash or years down the road. We help survivors survive.
Dallas, TX (PRWEB) April 08, 2014
Each year in the U.S., more than 10,000 people are killed and another 345,000 are injured in drunk driving crashes. In connection with National Crime Victims' Rights Week and the 30th anniversary of the national Victims of Crime Act (VOCA), Mothers Against Drunk Driving (MADD) is releasing its first-ever victim services report, funded by the generous support of the General Motors Foundation, to raise awareness around the issues facing victims of drunk and drugged driving and underage drinking. In addition, a new online victim tribute feature at madd.org/doves allows victims, friends and family to release virtual doves in honor of their loved ones.
The new report, called A Voice for Victims: MADD Victim Services Report, provides an inside look at the current state of crime victims' rights across the country, highlights some of the challenges both bereaved and injured victims are facing, shows how MADD is serving those victims, and urges concerned citizens to take action.
"At MADD, we often say 'first there's the crash, then the lifelong impact,'" said MADD National President Jan Withers, whose daughter was killed in an underage drunk driving crash. "We want people to know that we're here for victims and their friends and families throughout their healing journey—whether that's the day of the crash or years down the road. We help survivors survive."
MADD serves more than 61,000 victims each year, and has more than 1,200 trained volunteer and staff victim advocates nationwide. In addition, MADD's no-cost Victim Services Help Line is available 24/7 at 877-MADD-HELP. Some of the free services MADD offers to victims include:

Emotional support and guidance
Referrals to local counselors, support groups and attorneys
Help navigating the criminal and civil justice systems
Information and advocacy for coping with complex legal, medical and financial issues
"GM and the GM Foundation recognize the importance of providing resources to educate communities and raise awareness around the dangers of underage drinking and drunk driving," said Michael Robinson, GM Vice President of Sustainability and Global Regulatory Affairs.
Since 1995, the GM Foundation has donated grants totaling nearly $4 million to support MADD's drunk driving prevention and victim support work, and to raise awareness on the importance of having a designated driver.
"We are so thankful for the GM Foundation's support for MADD Victim Services," said Debbie Weir, MADD Chief Executive Officer. "MADD is a victim service organization at its core, but we know that there are hundreds of thousands more people we could help if they knew about our services."
For example, 4,700 people are killed each year as a result of underage drinking. MADD Victim Services are available to these victims' families and friends, plus those who have experienced other non-fatal outcomes from drinking underage, like alcohol poisoning, falls and other injuries.
For more information about MADD Victim Services, visit madd.org/help, or call our Victim Services Help Line at 877-MADD-HELP (877-623-3435).
About Mothers Against Drunk Driving
Founded by a mother whose daughter was killed by a drunk driver, Mothers Against Drunk Driving® (MADD) is the nation's largest nonprofit working to protect families from drunk driving and underage drinking. With the help of those who want a safer future, MADD's Campaign to Eliminate Drunk Driving® will end this danger on America's roads. PowerTalk 21® is the national day for parents to talk with their kids about alcohol, using the proven strategies of Power of Parents® to reduce the risk of underage drinking. And as one of the largest victim services organizations in the U.S., MADD also supports drunk and drugged driving victims and survivors at no charge, serving one person every 8.6 minutes through local MADD victim advocates and at 1-877-MADD-HELP. Learn more at http://www.madd.org or by calling 1-877-ASK-MADD.
About the GM Foundation
Since its inception in 1976, the GM Foundation has donated hundreds of millions of dollars to American charities, educational organizations and to disaster relief efforts worldwide. The GM Foundation focuses on supporting Education, Health and Human Services, the Environment and Community Development initiatives, mainly in the communities where GM operates. Funding of the GM Foundation comes solely from GM. The last contribution to the GM Foundation was made in 2001. For more information, visit http://www.gm.com/gmfoundation.